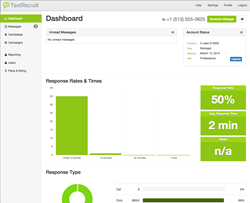 TextRecruit's new platform is extremely intuitive and has allowed us to scale and personalize text communications to candidates.
San Jose, CA (PRWEB) November 04, 2015
TextRecruit LLC, a global leader in mobile recruiting, unveiled a new user platform for its flagship product today that helps recruiting and human resource executives visualize texting trends in their business and optimize campaigns by creating custom reports.
"Recruiting and human resource teams deserve the same caliber of insights from TextRecruit as sales teams get from Salesforce," says TextRecruit co-founder Jed Danner. "Texting is the most efficient means of recruitment communication and data-driven optimization is our strategy to maintaining its lead."
"TextRecruit's new platform is extremely intuitive and has allowed us to scale and personalize text communications to candidates," says Christian Ray, System Leader Talent Strategy at SSM Health, one of the largest healthcare providers in the midwest and TextRecruit customer, "they basically read our mind."
"The new campaign features allow us to use text throughout the sourcing funnel whether it's letting candidates know a new position has opened up, engaging them during networking events or wishing them good luck before their interview," says Kate Rushton, Sourcing Manager at Liberty Mutual and TextRecruit customer.
One new dashboard chart allows recruiters to determine which time of day generates the highest text response rates. Studies have shown that mobile phone users are typically most active between 5:00pm and 8:00pm, but this feature enables recruiters to optimize their texting strategy around their own set of candidates.
"Our customers sent over 100,000 text messages in October and are achieving 99% open rates with as high as 60% response rates. Our new platform helps recruiters visualize the most effective times of day to send texts and improve upon even their highest performing campaigns," says TextRecruit co-founder Erik Kostelnik.
"Texting was the solution that our drivers and recruiters wanted," says Steve Sanchez, Recruiting Supervisor at Con-way Truckload and TextRecruit customer, "we use TextRecruit to schedule automated reminder messages to new drivers, which has increased orientation attendance and cut our recruiting costs by hundreds of thousands of dollars this year."
Recruiters around the world are taking note of text's ability to increase engagement. A recent survey showed that 90% of global recruiters felt text messaging had helped their business by improving the speed of communication.
To learn more about TextRecruit solutions for mobile recruiting, please visit http://www.textrecruit.com or contact info(at)textrecruit(dot)com.
About TextRecruit: TextRecruit is a global, mobile recruiting platform that helps attract and engage candidates or employees via text message. This cloud-based software is accessible via web or the IOS/Android mobile applications and helps teams centralize texting while staying compliant. TextRecruit can easily integrate with existing Applicant Tracking Systems or can be used independently by recruiters.