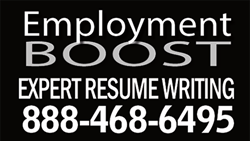 C-Suite clients often overlook the importance of how their resume, online profiles, and interviewing skills reflect their professional brand
Chicago,il (PRWEB) November 03, 2015
As the holiday season approaches and the reality of a New Year settles in, the Executive Resume Writers at Employment BOOST have been actively communicating with clients regarding their career goals and aspirations. Furthermore, this is the time of year in which executives are pursuing a career refresh or simply, a more prestigious professional image. As a direct result of the strategic development of Employment BOOST resumes and career planning methods, the career consultants and executive resume writers have achieved immense success with increased sales, higher call volume, and positive client referrals.
Employment BOOST offers complimentary resume evaluations for all interested professionals. With a dedicated Career Services Manager for each client and a complimentary content development meeting, clients receive a professional resume developed by industry-leading experts; developed with a methodological approach that's implemented throughout the entire process. For the month of November, executives can package any three services to receive an additional thirty percent off of the selected three services.
In addition to trimming 30% off of the executive resume writing service, the career experts of Employment BOOST have compiled three package deals that are most commonly purchased together; thus, simplifying the customer's shopping experience. The "Executive Package Deal – 1" features the executive resume writing service, a custom cover letter, and a LinkedIn profile development for $359 – featuring this package as the most purchased but also the best value with savings over $229. The "Executive Package Deal – 2" offers the executive resume writing service, custom cover letter, professional thank you letter, and linked-in profile development for $440, totaling savings of nearly $200. The "Executive Package Deal – 3" includes the executive resume writing service, custom cover letter and executive interrogation & consulting session for $480, originally valued at $688.
"C-Suite clients often overlook the importance of how their resume, online profiles, and interviewing skills reflect their professional brand. In receiving a wide spectrum of career services with a personal approach and career consultation, executives can change their outlook by sharing their accomplishments and effectively marketing themselves to colleagues or potential employers," said Alex Noelke, a Career Services Manager of Employment BOOST.
With a competitive job market, the career experts of employment BOOST strongly encourage job seekers and professionals to review their professional brand – is it accurate? Does it effectively define you? Does it reflect your accomplishments? "We strive to perfect your professional brand, and we succeed in the process of doing so," continued Noelke. "It's the strategic process we offer that we're excited to educate our clients about." The leading individuals of all industries, executives and beginners alike invest in their career, their future, and their professional brand. The first step is to start somewhere. Start with Employment BOOST.
ABOUT EMPLOYMENT BOOST:
Employment BOOST is a Troy, Michigan and Chicago, Illinois based company that provides professional resume writing services and critiquing, executive resume services, cover letter development, career planning, social media profile creation, and interview coaching to job seekers across the nation. For more than a decade, Employment BOOST has consistently been helping people achieve career satisfaction. Employment BOOST uses talented industry experts to tailor resumes to the key content that hiring managers seek. For more information on Employment BOOST, please call 888-468-6495 or visit http://employmentboost.com.