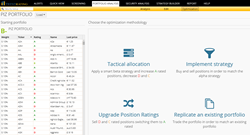 Fund managers need better tools that can enhance performance and identify early market deterioration. Momentum analytics fill this gap
New York, NY (PRWEB) November 03, 2015
Trendrating, a provider of innovative momentum factor analytics for global investment managers, announced today the release of the Trendrating Momentum Analytics Platform 1.2 which enables fund managers to more easily incorporate Smart Momentum when constructing and optimizing their portfolios. Its enhanced smart alpha and beta tools empower portfolio managers to identify and optimize long-term trends that align with their existing portfolio strategies based on powerful stock selections and weightings.
The Trendrating Smart Momentum Model is based on a multi-factor approach designed to identify trends early and adapt to market volatility to provide stability and greater profitability for long-term investors. The new version of Trendrating offers four choices to overlay momentum on top of fundamental analysis for more disciplined and effective portfolio construction. The new version supports both alpha strategies based on momentum ranking and filtering and strategic beta overlays based on momentum-driven tactical allocation. These enhancements make it fast and easy to systematically run multiple portfolio assessments and adjust the exposure in order to identify Smart Momentum opportunities.
"At the end of the day equity investing is about capturing trends, and a robust trend assessment should part of any decision process," said Rocco Pellegrinelli, Founder and CEO of Trendrating. "Fund managers need better tools that can enhance performance and identify early market deterioration. Momentum analytics fill this gap. However, despite abundant academic evidence that momentum is a strong and persistent factor, a number of fund managers have struggled with how to overlay momentum on top of their existing strategy. Our momentum ratings are designed to facilitate a better understanding and valuation of the merits of momentum as a valuable, additional decision-making element that brings discipline and objectivity in a user-friendly platform."
About Trendrating
Trendrating empowers professional investors with the financial industry's most innovative momentum investing technology to improve their portfolio diversification and overall performance. We provide our intelligent performance enhancement technology to over 100 institutional fund managers in Europe, the U.S. and Asia. Our best in class momentum analytics are used by mutual funds, hedge funds institutional asset managers, pension funds, banks, wealth advisors and family offices. Trendrating has offices in London, New York, and Lugano.