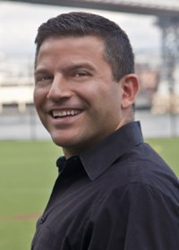 Avi Gvili is voted best writer on Staten Island
Staten Island, New York (PRWEB) November 04, 2015
Avi Gvili, educator & author is voted best writer on Staten Island in the Staten Island Advance 2015 Reader's Choice Awards for the best of culture on Staten Island!
Avi Gvil is the author of four books. His young adult novels, Samson Turner & the Legend of Hercules and its sequel, The Quest for Olympus, bring together Greek Mythology and Superheroes. Life & Love & the Like, his short story collection, takes a heartfelt and humorous look at married life with kids. Avi's most recent publication, "The Art of Recycling," is a collaboration with noted artist and FIT professor Chris Spollen that shows the hidden art that lies behind discarded materials.
Boulevard Books is an educational publishing company for the 21st century, Founded in 2010 by Avi Gvili, it aims to bring the best writers across the globe to a greater audience.