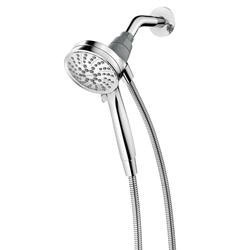 North Olmsted, Ohio (PRWEB) November 03, 2015
Yesterday, Time Inc.'s This Old House named Magnetix™ hand showers from Moen to its fifth annual "This Old House Top 100," a list of the 100 best new home products of the year. Each year, the editors spend months scouting, testing, and culling countless new home products to identify the most distinctive, useful and innovative in seven categories, including the bath. Magnetix was selected for its powerful magnetic dock that allows for easy release of the hand shower, as well as a secure return back into place – even when your eyes are closed.
"Magnetix is one of those products that makes you wonder, 'why has no one thought of this before?'" says Scott Omelianuk, editor at This Old House. "The addition of a magnet to the dock is ingenious – it's an elegantly simple, but impactful, solution to a common household problem, the hand shower slipping from the dock. As soon as we saw it, we knew it had to be one of our Top 100. Home companies release thousands of new products every year, and our job is to highlight the ones with staying power – those that are in some way brilliant and will make our readers' lives better… Magnetix definitely fits the bill."
In addition to the magnetic dock, Magnetix showerheads also feature six high-performance spray options to customize the showering experience, with the choice of a dial or push button to change between settings. A flexible, 60-inch metal hose offers greater reach in the tub or shower – allowing consumers to accomplish other tasks, such as bathing children, washing pets and cleaning the shower, with ease. A lower showerhead provides easier access for those with limited mobility.
"We are incredibly honored that Magnetix has been included in this year's Top 100 list," says Maribeth Kwasniewski, director of retail marketing, Moen. "At Moen, it's our mission to create solutions that fulfill unmet consumer needs, improving homeowners' everyday interactions with products in the kitchen and bath. With Magnetix, we've transformed the traditional hand shower experience, making it easier and more intuitive, and we're thrilled to be recognized by This Old House for this innovation."
A full list of the honorees featured in the November/December issue can be found at thisoldhouse.com/top100.
For more information about Magnetix, visit moen.com/magnetix or call 1-800-BUY-MOEN (1-800-289-6636).
###
Tweetable Highlights:

@moen #Magnetix hand showers named one of the 100 best new home products of 2015 by @ThisOldHouse! #TOHTop100 (Share)
@ThisOldHouse calls @moen #Magnetix hand showers a must-have innovation! Check them out in the #TOHTop100 products roundup! (Share)
Follow Moen:

Facebook: facebook.com/moen
Twitter: @moen
Pinterest: pinterest.com/moen
Instagram: @moeninc
YouTube: youtube.com/moenfaucets
Houzz: houzz.com/pro/moen
Google+: plus.google.com/+moenfaucets
Links to Additional Assets
Photography: moen.com/pressroom/image-library/results?search_terms=magnetix&type=product
Videos: moen.com/pressroom/videos
Moen Press Room: moen.com/pressroom
Moen Logos: moen.com/pressroom/image-library/results?type=logos
About Moen
As the #1 faucet brand in North America, Moen offers a diverse selection of thoughtfully designed kitchen and bath faucets, showerheads, accessories, bath safety products and kitchen sinks for residential applications – each delivering the best possible combination of meaningful innovation, useful features, on-trend styling and lasting value. In addition, Moen® Commercial offers superior-performing products that deliver lower lifetime costs for today's facilities.
Moen is part of Fortune Brands Home & Security, Inc. (NYSE: FBHS), which creates products and services that help fulfill the dreams of homeowners and help people feel more secure. The Company's trusted brands include Moen® faucets, Master Lock® and Sentry® Safe security products, MasterBrand Cabinets® and Therma-Tru® entry door systems. Fortune Brands holds market leadership positions in all of its segments. Fortune Brands is part of the S&P MidCap 400 Index. For more information, please visit http://www.FBHS.com.
About This Old House
This Old House Ventures Inc. is America's premier home-enthusiast brand, netting 50 million multimedia impressions each month through its award-winning television, print, and Web properties. The leading consumer publication for home how-to and inspiration, the award-winning This Old House magazine has a circulation of 950,000 and reaches an audience of nearly 6.5 million print readers. This Old House is available in digital format for tablets and is published by Time Inc., the largest magazine media company in the U.S.
Contact:
Jennifer Allanson or Kristi Stolarski
Falls Communications
(216) 696-0229
jallanson(at)fallscommunications(dot)com
kstolarski(at)fallscommunications(dot)com