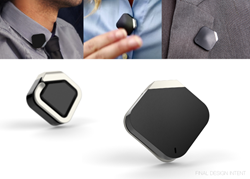 (PRWEB) November 03, 2015
MYLE was featured on NewsWatch as part of its monthly Tech Report, which features the latest and coolest technology products available to consumers. Amanda Forstrom, a technology expert and special reporter for NewsWatch, conducted the review and shared with viewers how this device is the best way to never forget anything.
There's a lot of information for a person to process in one day. So instead of trying to retain all of it, people resort to digital notes. Well, digital notes just got easier with MYLE, a wearable tech that clips onto a shirt.
When a person wants to memorize anything or make a note all they have to do is to tap MYLE and speak. MYLE will save their thought as an audio note, and automatically sync it with their phone, convert it to text, analyze by context, assign by their applications and execute. They can share any memorable events on Facebook or Twitter, put their thoughts to Evernote or Slack, manage their business notes with Salesforce or Time-Sheet reports, and much more.
MYLE can save up to 2,000 notes at any time or place without a phone. The time-saving aspect of this device alone is enough to it stand out – users can save more than an hour every day. MYLE'S standard color is black but people have the choice of five different colors and they can currently vote for colors on their Indiegogo campaign. Myle can be pre-ordered for $99, and there's also a promotion where two people can receive $20 each when a friend refers someone.
To learn more, visit http://www.getmyle.com today.
About NewsWatch
NewsWatch is a weekly 30-minute consumer oriented television show that airs on the Discovery Channel and ION Network. NewsWatch regularly features top technology products and services, mobile applications for iOS, Android, and Windows devices, unique and beautiful travel destinations around the world, health and medical tips, and entertainment interviews on the show. NewsWatch airs on the Discovery Channel at 7:00 – 7:30 AM ET/PT.