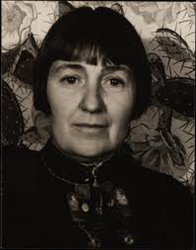 "The women involved with the project have all contributed to the understanding of Mabel's character, defining her themes and personal development." Katie Peters, Executive Producer
Santa Fe, NM (PRWEB) November 04, 2015
Director Mark Gordon and Executive Producer Katie Peters bring the story of Mabel Dodge Luhan to the Lensic Theater on November 18th for an exciting look at the theatrical cut of the long awaited film, Awakening in Taos.This is a one-time opportunity to view rare footage and details that may end up on the cutting room floor.
Over a decade in the making, Awakening in Taos is a biographical study of famed writer, salon hostess, political activist and patroness of the arts, Mabel Dodge Luhan. Containing never-before-seen photographs, archival footage and personal correspondence pertaining both to Mabel's early background and her life in New Mexico beginning circa 1917, this long-awaited retrospective focuses upon Mabel's personal struggles, her contact with "movers and shakers" of the day (a phrase she coined), and her influence upon Taos' art colony. Luhan invited, among many others, D. H. Lawrence, Georgia O'Keefe, Willa Cather and Ansel Adams to explore New Mexico's unique landscape and cultures through artistic expression – be it painting, writing, photography or even dance - to her beloved and destined home: Taos, New Mexico.
Narrated by the legendary actor Ali MacGraw, and featuring the voice of Leslie Harrell Dillen as Mabel, and Debrianna Mansini as the voice of Georgia O'Keeffe, this film has received long-term, grassroots support from local businesses, private individuals, foundations and government agencies. Please join Executive Producer Katie Peters and Director Mark Gordon as they celebrate the completion and move into final broadcast edits.
DETAILS:
Pre-screening reception at Blue Rain Gallery, Santa Fe, 5 – 6:30PM
World Premiere at the historic Lensic Performing Arts Center immediately following at 7PM.
Ali MacGraw, Santa Fe Mayor Javier Gonzales, Leslie Harrell Dillen and Debrianna Mansini will be in attendance. For additional information, we invite you visit our website: http://www.awakeningintaos.com
Tickets are $25 for the premier and $75 for both the premier and reception and may be purchased online at AwakeningInTaos.com/premier, or call the Lensic at 505.988.1234
If you would like to learn more about this project, please contact:
Mark Gordon, Writer/Director
Awakening in Taos
831/402.1373
mark(at)awakeningintaos(dot)com
http://www.awakeningintaos.com