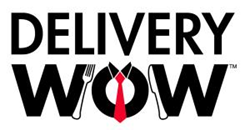 Chicago, IL (PRWEB) November 10, 2015
Ease the stress of the holidays with scheduled delivery of restaurant food delivery orders. For a limited time during November and December Delivery Wow will be offering $10 off $100 food orders for up to 3 orders using coupon code PLATTERS. Delivery Wow offers food delivery service in Chicago and South Florida, including Palm Beach County, Broward County, and Miami-Dade County.
Choose from hundreds of local restaurants offering full and drop off catering including party platters, dessert trays and holiday catering in your area 7 days a week for breakfast, lunch, and dinner. At Delivery Wow, orders are guaranteed to be on time and accurate.
The specially trained catering staff at Delivery Wow is available to assist in putting together a food delivery menu to fit any budget. Delivery Wow's restaurant delivery service has all of the essentials needed to complete an event or gathering including beverages, cups, ice, plates, napkins, utensils, and serving pieces.
About Delivery Wow
DeliveryandToGo.com has since merged with CEO Deliveries, Inc. to become Delivery Wow, a Chicago restaurant delivery service and South Florida restaurant delivery service. Today the restaurant delivery service industry is thriving and Delivery Wow is well poised as a recognized market leader that has been readily adopted by delighted consumers and savvy restaurant operators alike.
Consumers appreciate the convenience of having their favorite restaurant food delivered to them when they are unable to pick it up themselves or dine on-premise; and, restaurants appreciate the ability to have their complete takeout and drop-off catering menus delivered for them without having to hire drivers, incur additional liability or manage the food delivery process. Delivery Wow also functions as a dynamic online marketing force that generates millions of menu page views annually as well as dramatically increased foot traffic for its partner restaurants - all while making the restaurant food deliveries on time.