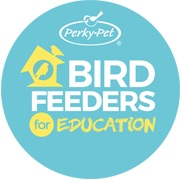 Lititz, PA (PRWEB) November 03, 2015
Perky-Pet®, a respected leader among bird lovers, enthusiasts, and hobbyists, recently announced a partnership with the Cornell Lab of Ornithology to provide funding for their BirdSleuth K-12 curriculum.
The partnership will host a sponsorship drive from November 2 through December 31, 2015, in order to raise awareness and fund Cornell Lab of Ornithology curriculum to schools across the country. The goal of the campaign is to provide at least 50 classrooms with a Habitat Connections lesson plan. This curriculum aims to foster the student's love of birding and local habitat conservation, with its Next Generation Science Standards, as well as core curriculum standards in math and English. In addition, Perky-Pet® will be providing a bird feeder and a 5 lb. bag of Lyric® wild bird seed.
"We are thrilled to partner with the Cornell Lab of Ornithology on this initiative," said James Kelly of Perky-Pet®. "It is our goal to continue to educate our future generations about birds and help fund the scientists studying bird conservation. We must continue researching the fascinating and ever-changing bird population."
There are a variety of ways for bird enthusiasts to get involved including: purchasing a sponsorship package through the Perky-Pet® website, following and amplifying the conversation on social media using hashtag #birdfeeders4education, or sharing the information and updates with family and friends. Perky-Pet® will match every dollar sponsored and reward each purchased sponsor package with bird feeders and bird seed.
For additional information please visit http://www.birdfeeders.com/bird-feeders-for-education
About Perky-Pet®
Perky-Pet® brand is a trusted name to bird lovers, with high quality, functional feeders that address the demands of both bird hobbyists and enthusiasts alike. A good resource for just about every wild bird need is right at your fingertips. Visit the Perky-Pet® website to learn more about bird watching, bird feeding tips and tools, and ways to attract birds. Perky-Pet® is a registered trademark of Woodstream Corporation, a long-standing, privately-held company and leading manufacturer of quality-branded caring control products for pets and wildlife, natural solutions for lawns and gardens and wild bird feeding products. For more information visit http://www.birdfeeders.com/