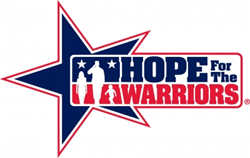 Washington, DC (PRWEB) November 03, 2015
Hope For The Warriors® is pleased to announce that local veteran caregiver Juana Carrizales will be honored at the Got Heart, Give Hope® Celebration in Washington, DC on November 4, 2015. The theme of this year's Celebration is "Women Who Inspire Through Service." Carrizales will be recognized for her service and leadership to military families in her community. All proceeds of the event will go to Hope For The Warriors®, a national nonprofit dedicated to restoring a sense of self, restoring the family unit, and restoring hope to our service members and our military families.
Carrizales grew up in Houston, Texas, where she met her husband, Martin. The Marine Corps issued Martin orders to Camp Pendleton and Carrizales continued her education at the University of Houston. She later joined Martin at Camp Lejeune in 1999.
In 2005, while on his second deployment to Iraq, Martin was injured in an IED explosion and suffered a concussion. After completing his tour in Iraq and returning home, Carrizales realized his injuries were more severe than documented. In early 2008, she began to advocate for Martin to get the care that he needed.
After two years of countless doctors appointments and incidents, Martin was diagnosed with TBI, PTSD, and a lower back injury that resulted in fused discs and titanium rods. As his caregiver, Carrizales helped Martin on his long road to recovery. She managed his day-to-day activities, attended doctor appointments, therapy sessions, and assisted him in his speech and memory recovery.
The Carrizales Family joined the Hope For The Warriors® family when Martin ran the Inaugural Run For The Warriors® in 2006, and Carrizales volunteered for the event. Carrizales has been an active volunteer with Hope For The Warriors® for the past ten years, supporting countless events in the Camp Lejeune, North Carolina area.
Currently, Carrizales works as a Member Service Specialist at Marine Federal Credit Union in Jacksonville, NC and supports Martin as a caregiver while he continues to serve with Wounded Warrior Battalion East and interns as a MARSOC Instructor. Her firsthand experience as a caregiver and military spouse has made her invaluable to Hope For The Warriors® and her community.
The highlight of the evening will be the presentation of The Vigiano Family Hope & Courage Awards to seven honorees—service members and veterans, civilians and caregivers—focusing on the HOPE they symbolize through their remarkable stories and service.
The Honorees:

SPC Catherine Bane, USA
SFC Angela Green, USAR
Courtney Spaeth, CEO of growth.[period]
Jan Vigiano, Gold Star Mother
Lee Woodruff, Caregiver
Juana Carrizales, USMC Caregiver
Erin Thede, Director of Employer Partnership
For more information on the Got Heart, Give Hope® Celebration, please visit http://www.gotheartgivehope.org.
###
Hope For The Warriors® Mission Statement
We believe those touched by military service can succeed at home by restoring their sense of self, family, and hope. Nationally, Hope For The Warriors® provides comprehensive support programs for service members, veterans, and military families that are focused on transition, health and wellness, peer engagement, and connections to community resources.
Hope For The Warriors® has earned a Four-Star Rating from Charity Navigator (http://www.charitynavigator.org) for four consecutive years. Charity Navigator is an independent organization that evaluates fiscal responsibility and accountability of nonprofits.
Hope For The Warriors® (Federal Tax ID 20-5182295) is a 501(c)(3) tax-exempt charity as defined in sections 509(A)(1) and 170(B)(1)(A)(VI) of the Internal Revenue Code. Combined Federal Campaign, CFC #27800.