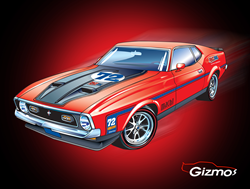 (PRWEB) November 03, 2015
This week the AMSOIL "Devoted to Protection™" Sweepstakes kicks off at the 2015 SEMA Show in Las Vegas. For 43 years, AMSOIL has been the choice of enthusiasts who demand the most from their oil. To celebrate four decades of innovation, one lucky fan will take home a fully modified 1972 Ford Mustang Mach 1. The sweepstakes winner will be announced in the AMSOIL booth at the 2016 SEMA Show.
The 1972 Ford Mustang was selected as a powerful symbol of the American muscle car era. AMSOIL has partnered with Gizmo's Hot Rods to refine this classic vehicle front-to-rear. The fastback with ram air hood features positraction rear-wheel drive, a three-speed automatic transmission, a modified 351 Cleveland engine that makes 425 hp and 450 ft.-lbs. torque, Wilwood drilled and slotted four-piston brakes, Afco double-adjustable billet shocks, upgraded suspension and steering components and hand-built ceramic-coated Mandrel bent exhaust. In addition to the upgraded fuel system to accommodate the new engine, the '72 'Stang will be protected with AMSOIL fluids and lubricants from bumper-to-bumper.
"As people who love cars, finding and modifying a vehicle like this has been fun," said Erica Danielski, director of integrated marketing for AMSOIL. "We liked the selection of this particular Mustang because 1972 was a defining year for our company. That was the year AMSOIL chairman Al Amatuzio founded AMSOIL, on the same principles that defined his career as a jet fighter squadron commander – high-performance, superior quality, excellence and strong leadership."
Greg Friedrich, owner and founder of Gizmos Hot Rods, the selected builder, stated, "We at Gizmos are extremely excited to have the opportunity to be involved with this project and to be able to work with AMSOIL. Both AMSOIL and Gizmos are highly committed to quality, so the relationship is a great match."
For links to complete contest rules or to register, visit http://www.amsoil.com/musclecar.
About AMSOIL: AMSOIL has been the recognized leader in synthetic lubrication since 1972. For more information about AMSOIL synthetic lubricants and performance products contact your nearest AMSOIL distributor, visit http://www.amsoil.com or call AMSOIL at (715) 392-7101 or 1-800-777-8491. AMSOIL INC., AMSOIL Building, Superior, WI 54880.
About GIZMOS: Greg Friedrich has been involved in land speed racing, drag racing and road racing for his entire career. Greg founded Gizmos custom hot rod shop in 2003, building a variety of project vehicles from show stopping custom hot rods and track burning drag cars to salt flat record-breakers and daily drivers. For more information visit http://gizmosmn.com/ or call 612-845-2515.
MEDIA CONTACT:
Ed Newman
Advertising Manager
AMSOIL INC.
[email protected]
715-392-7101
High rez image available upon request: [email protected]