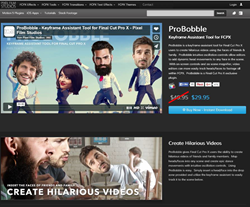 Using ProBobble is easy - Simply insert a head/face into the drop zone provided and utilize the keyframe assistant to easily track it to the scene below.
Aliso Viejo, CA (PRWEB) November 05, 2015
ProBobble is a keyframe assistant tool for Final Cut Pro X users to create hilarious videos using the faces of friends & family. ProBobble intuitive oscillation controls allow editors to add dynamic head movements to any face in the scene. With on-screen controls and a scene magnifier, video editors can more easily track heads/faces to footage all within FCPX.
With easy checkboxes, video editors can easily create kinetic head movements with the faces of friends and family. ProBobble features X & Y position oscillations to create the effect of a head nodding yes or no. With Z rotation oscillation, users can apply a dancing effect to faces within the scene and control the speed and degree of oscillation with simple sliders.
ProBobble's keyframe assistant checkbox magnifies the scene below to make it easier for video editors to track a specific point within footage. Tracking is made simple with ProBobble. After setting the first keyframe, mimic the movement of footage by repositioning the on-screen control to match the same point throughout the duration of the clip.
ProBobble is easy-to-use in Final Cut Pro X. Insert any .png image into the drop zone and adjust the anchor point to align with the bottom of the image. Next tweak the oscillation controls to create the head movement desired. Lastly, use the keyframe assistant tool to help track the faces of friends and family to video footage.
"Final Cut Pro X is lacking some essential plugins. We intend to satisfy the needs of fans of FCPX around the world and get them what they need," said Christina Austin, CEO of Pixel Film Studios.
Established in 2006, Aliso Viejo, California-based Pixel Film Studios is an innovative developer of visual effects tools for the post-production and broadcast community. Their products are integrated with popular non-linear editing and compositing products from Apple FCPX. Apple, the Apple logo, Mac OS X, and Macintosh are registered trademarks of Apple Inc. in the U.S. and/or other countries. All other trademarks and trade names are the property of their respective owners.