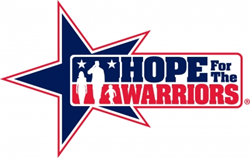 Washington, DC (PRWEB) November 03, 2015
Hope For The Warriors® is pleased to honor local veteran and military advocate Courtney Spaeth at the Got Heart, Give Hope® Celebration in Washington, DC on November 4, 2015. The theme of this year's Celebration is "Women Who Inspire Through Service." Spaeth will be recognized for her service and leadership to the military community. All proceeds of the event will go to Hope For The Warriors®, a national nonprofit dedicated to restoring a sense of self, restoring the family unit, and restoring hope to our service members and our military families.
Spaeth is the CEO and Founder of NSAWW / growth.[period]. Prior to founding growth.[period], Spaeth served as Corporate Vice President of Homeland Security for the Raytheon Company. Before Raytheon, she served as Director of Homeland Systems Solutions for Lockheed Martin, winning more than $3 billion USD in new business. Spaeth also served as Director of Force Health Protection of the Gulf War Illness Task Force as a contractor for Northrop Grumman.
In 2000, President Clinton appointed Spaeth to the Office of the Assistant Secretary of Defense for Special Operations / Low Intensity Conflict, where she was the Assistant in Charge of Global Terrorism Issues. In addition, she worked in the Department of Justice's Criminal Antitrust Division, as well as the Office of Chief Counsel to the President.
Spaeth recently received the 2014 Angel Outreach Award from the Business and Professional Women's Foundation, an organization of which First Lady Michelle Obama is the Honorary Chair, honoring Spaeth's commitment to philanthropy. In April of 2014, she was named one of five finalists for the Outstanding Corporate Citizenship Awards in the Executive Leader of the Year Category by the Fairfax, Virginia Chamber of Commerce. Spaeth was also a Finalist for the 2010 Ernst & Young Entrepreneurial Winning Women award and was the 2010 winner of the "Heroines in Technology" Award.
Spaeth holds a Master's Degree in National Security Studies from Georgetown University and a BA, with honors, in Military History from the University of Pennsylvania. She lives in the Washington, DC area with her husband and children.
The highlight of the Got Heart, Give Hope® Celebration will be the presentation of The Vigiano Family Hope & Courage Awards to seven honorees—service members and veterans, civilians and caregivers—focusing on the HOPE they symbolize through their remarkable stories and service.
The Honorees:

SPC Catherine Bane, USA
SFC Angela Green, USAR
Courtney Spaeth, CEO of growth.[period]
Jan Vigiano, Gold Star Mother
Lee Woodruff, Caregiver
Juana Carrizales, USMC Caregiver
Erin Thede, Director of Employer Partnership
For more information on the Got Heart, Give Hope® Celebration, please visit http://www.gotheartgivehope.org.
###
Hope For The Warriors® Mission Statement
We believe those touched by military service can succeed at home by restoring their sense of self, family, and hope. Nationally, Hope For The Warriors® provides comprehensive support programs for service members, veterans, and military families that are focused on transition, health and wellness, peer engagement, and connections to community resources.
Hope For The Warriors® has earned a Four-Star Rating from Charity Navigator (http://www.charitynavigator.org) for four consecutive years. Charity Navigator is an independent organization that evaluates fiscal responsibility and accountability of nonprofits.
Hope For The Warriors® (Federal Tax ID 20-5182295) is a 501(c)(3) tax-exempt charity as defined in sections 509(A)(1) and 170(B)(1)(A)(VI) of the Internal Revenue Code. Combined Federal Campaign, CFC #27800.