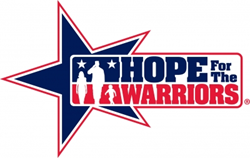 Washington, DC (PRWEB) November 03, 2015
Hope For The Warriors® is pleased to honor veteran Erin Thede at the Got Heart, Give Hope® Celebration in Washington, DC on November 4, 2015. The theme of this year's Celebration is "Women Who Inspire Through Service." Thede will be recognized for her service and leadership to the military community. All proceeds of the event will go to Hope For The Warriors®, a national nonprofit dedicated to restoring a sense of self, restoring the family unit, and restoring hope to our service members and our military families.
Thede has served as the Director of the Private Public Partnership Office (formerly the Employer Partnership Office) in the Office, Chief Army Reserve since January of 2011. As Director, she oversees support to soldiers, families, and veterans with career opportunities in the civilian sector. Most recently, Thede led the transition to focus on individual, leader, and unit readiness for the Army Reserve through key partnerships with companies, corporations, foundations, and NGOs. Her leadership ensures the Army Reserve is poised to offer greater capability in preventing and shaping operations throughout the world–strengthening national and global security.
Prior to this assignment, Thede served in a civilian capacity with the Army National Guard (ARNG). She was instrumental in the creation and development of the ARNG's Yellow Ribbon Program at both the State and National levels, including the provision of crucial background information as the Program went forward into Legislation.
In 2008 the ARNG expanded their Family and Soldiers Services, creating a new Division under Thede's direction and guidance. Within this division she provided oversight for ARNG programs related to Warrior Transition Units, Suicide Prevention, Sexual Assault Prevention and Response, Soldier Reintegration, Casualty Assistance, and Survivor Outreach Services. Thede's next assignment was with the Department of the Army Inspector General. She was selected to represent the ARNG as a subject matter expert during the inspection of the Army's Sexual Harassment/Assault Response and Prevention Program.
Thede began her service to our country in the 1980s, serving as a United States Marine. Her education includes a Bachelor's Degree in Management from Park University and a Masters in Strategic Studies from the United States Army War College. Her lifetime of leadership and service continues to greatly influence many levels of support, policy, and development for the service member community.
The highlight of the Got Heart, Give Hope® Celebration will be the presentation of The Vigiano Family Hope & Courage Awards to seven honorees—service members and veterans, civilians and caregivers—focusing on the HOPE they symbolize through their remarkable stories and service.
The Honorees:

SPC Catherine Bane, USA
SFC Angela Green, USAR
Courtney Spaeth, CEO of growth.[period]
Jan Vigiano, Gold Star Mother
Lee Woodruff, Caregiver
Juana Carrizales, USMC Caregiver
Erin Thede, Director of Employer Partnership
For more information on the Got Heart, Give Hope® Celebration, please visit http://www.gotheartgivehope.org.
###
Hope For The Warriors® Mission Statement
We believe those touched by military service can succeed at home by restoring their sense of self, family, and hope. Nationally, Hope For The Warriors® provides comprehensive support programs for service members, veterans, and military families that are focused on transition, health and wellness, peer engagement, and connections to community resources.
Hope For The Warriors® has earned a Four-Star Rating from Charity Navigator (http://www.charitynavigator.org) for four consecutive years. Charity Navigator is an independent organization that evaluates fiscal responsibility and accountability of nonprofits.
Hope For The Warriors® (Federal Tax ID 20-5182295) is a 501(c)(3) tax-exempt charity as defined in sections 509(A)(1) and 170(B)(1)(A)(VI) of the Internal Revenue Code. Combined Federal Campaign, CFC #27800.