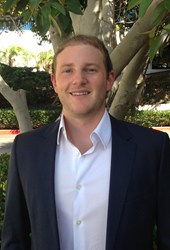 San Rafael, California (PRWEB) November 03, 2015
Weber joined the FutureSense team in October of 2015 as an Associate Consultant supporting the team with any and all types of consulting work focusing heavily on marketing and business development initiatives. He holds a B.A. in Business Administration from the University of San Diego. During his time in college, Weber featured as a striker for the Men's Division 1 Soccer program.
Weber is an outstanding addition to FutureSense, which specializes in human capital workforce planning, leadership development, executive coaching, talent management, compensation, cultural change initiatives and employee relations. Weber will certainly be an integral force amongst a team of innovators.
Prior to joining the FutureSense team, Weber worked with multiple startup companies in the digital media/advertising industry. That fast paced, dynamic environment has given him invaluable experience, allowing him to perform a variety of different business functions. With his diverse skill set in both sports and business, Weber understands the value of teamwork, leadership and empowering others to become the best version of themselves.
Weber currently lives in Los Angeles, California. He's passionate about traveling and building new relationships. He spends a majority of his free time playing soccer near the beach, but he also enjoys hiking, camping, biking, attending festivals and watching movies.