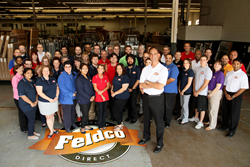 While the company has grown significantly over the past few years, their dedication to delighting their customers remains the same.
Des Plaines, IL (PRWEB) November 03, 2015
Feldco Windows, Siding and Doors was named the 2015 Dealer of the Year for Overall Excellence in the Homeowner Market by Window and Door Magazine.
Each year, Window and Door Magazine recognizes top companies in the industry as the best in a variety of categories. Feldco was honored for their dedication to Customer Service in 2009 and is now selected for Overall Excellence in 2015.
"It is truly an honor to be named Dealer of the Year," said Doug Cook, Feldco Owner and President. "We have persevered over the past six or seven years. While other companies have scaled back operations, we opted to expand. It's a true testament to the team we have in place working hard to serve our customers."
While the company has grown significantly over the past few years, their dedication to delighting their customers remains the same. Everything the organization does is based on how to better serve their customers, which inevitably leads to more success for Feldco.
"We go above and beyond to delight customers," says Marketing Director, Patti Freko. Feldco establishes a relationship with the customer before they may even meet anyone from the organization. They share pictures and fun facts of information about their sales representatives with the customers – a practice which has been very well-received. Additionally, Feldco also utilizes a 3rd party to make follow-up calls to see how the homeowner's project went. The ratings given by the customers are directly tied to employee compensation. Feldco goes above and beyond. "We probably communicate far more [often] and more effectively than our competitors," continues Freko.
Another 'Secret to their Success' is Feldco's continual investment in technology. Cook mentions there has been an investment in technology every year for the past 15 years. Besides a new and improved vertically integrated Customer Relationship Management System, Feldco has implemented the use of tablets in the field. All the sales reps and field technicians have tablets, which makes everything from pricing, measuring and scheduling a much more streamlined process. This results in a more productive and happier workforce, and ultimately in more delighted customers!
Cook announced the news to the entire organization on Friday and was met with huge applause and excitement. "This award is for every single one of you," he stated. "I couldn't be more proud of everyone here. We have always known we're the best at what we do, and now we have been recognized once again for our tremendous efforts."
***
Feldco is the Midwest's leading window, siding and door replacement specialist. Founded in 1976, the company is focused on delighting customers by making home improvement projects simple. With premium products, factory-direct pricing and certified installers, Feldco provides an excellent overall value and experience for over 350,000 customers. The company offers free in-home demonstrations and lifetime product warranties. Feldco serves all of Central and Northern Illinois, Northwest Indiana, Southern and Northeast Wisconsin and as of June of 2015, Eastern Iowa. Feldco has showrooms in Chicago, Des Plaines, Rockford, and Peoria, Illinois, Madison, Cudahy and Menasha, Wisconsin and Davenport, Iowa. Please visit Feldco's website (http://www.4feldco.com) or contact the company's Communication Center (866-4FELDCO or 708-437-4000) to learn more about Feldco's products and services.
Feldco has been named one of Chicago's Tribune's Top Workplaces in 2010, 2011, 2012, 2013 and 2014. They have also received an Honorable Mention in Crain's Chicago Best Places to Work in 2009. Doug Cook has been honored by the Daily Herald for Entrepreneurial Excellence, as well.