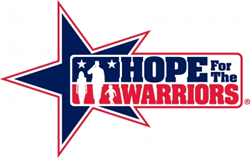 Washington, DC (PRWEB) November 03, 2015
Hope For The Warriors® is pleased to honor veteran caregiver and best-selling author Lee Woodruff at the Got Heart, Give Hope® Celebration in Washington, DC on November 4, 2015. The theme of this year's Celebration is "Women Who Inspire Through Service." Woodruff will be recognized for her service and leadership to the military family community. All proceeds of the event will go to Hope For The Warriors®, a national nonprofit dedicated to restoring a sense of self, restoring the family unit, and restoring hope to our service members and our military families.
Woodruff garnered critical acclaim for co-writing the best-selling In an Instant with her husband, Bob Woodruff. The novel is a compelling and humorous chronicle of her family's journey to recovery following Bob's roadside bomb injury in Iraq. Appearing together on national television and radio since the February 2007 publication of their book, the Woodruffs have put a face to the serious issue of traumatic brain injury among returning Iraq war veterans.
Together, they founded the Bob Woodruff Foundation to assist wounded service members and their families. The foundation has raised more than $28 million to help veterans successfully reintegrate into their communities and receive critical long-term care.
Woodruff continues her impact on the military family community through her writing. She has penned numerous magazine articles about her family and parenting. Her most recent novel, Those We Love Most, became a New York Times best-seller and won the Washington Irving Book Award for fiction.
Woodruff has been a contributing reporter for "CBS This Morning" and "Good Morning America." She ran her own marketing consulting business for 16 years after leaving the PR agency world in New York, Washington DC, and San Francisco. Her voice as a writer and public figure, along with her activism as a military spouse, has greatly influenced the military family community.
Woodruff lives in Westchester County, New York, with her husband and four children.
The highlight of the Got Heart, Give Hope® Celebration will be the presentation of The Vigiano Family Hope & Courage Awards to seven honorees—service members and veterans, civilians and caregivers—focusing on the HOPE they symbolize through their remarkable stories and service.
The Honorees:

SPC Catherine Bane, USA
SFC Angela Green, USAR
Courtney Spaeth, CEO of growth.[period]
Jan Vigiano, Gold Star Mother
Lee Woodruff, Caregiver
Juana Carrizales, USMC Caregiver
Erin Thede, Director of Employer Partnership
For more information on the Got Heart, Give Hope® Celebration, please visit http://www.gotheartgivehope.org.
###
Hope For The Warriors® Mission Statement
We believe those touched by military service can succeed at home by restoring their sense of self, family, and hope. Nationally, Hope For The Warriors® provides comprehensive support programs for service members, veterans, and military families that are focused on transition, health and wellness, peer engagement, and connections to community resources.
Hope For The Warriors® has earned a Four-Star Rating from Charity Navigator (http://www.charitynavigator.org) for four consecutive years. Charity Navigator is an independent organization that evaluates fiscal responsibility and accountability of nonprofits.
Hope For The Warriors® (Federal Tax ID 20-5182295) is a 501(c)(3) tax-exempt charity as defined in sections 509(A)(1) and 170(B)(1)(A)(VI) of the Internal Revenue Code. Combined Federal Campaign, CFC #27800.