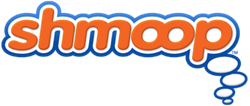 We've found that when students can engage with the material, their retention increases and they're able to perform better on standardized tests.
Mountain View, California (PRWEB) November 03, 2015
It's been a decade since the College Board last redesigned the SAT exam. And anyone who hasn't been hiding under a rock or a pile of SAT flashcards knows that a lot has changed in 10 years. Common Core was introduced. The government decided American students were being tested too much. #education became a thing.
Translation: it was about time for another update. The redesigned SAT will debut in March 2016, but Shmoop (http://www.shmoop.com), a digital publisher known for its award-winning Test Prep and certified Online Courses, has released prep for the exam well in advance. With its track record of proven results, it's no surprise Shmoop will be helping thousands of schools and districts across the country prepare for the big day.
Shmoop's SAT prep includes a diagnostic exam for each section, detailed study guides for all topics, loads of practice drills with answer explanations, and four full-length practice exams that feel just like the real thing. Plus, for students who are sweating the changes, Shmoop provides an in-depth review of the redesigned exam so no one's flying blind. The highlights? The new exam is shorter, the essay is optional (and analytical), the scoring has gone back to the 1600 scale, there's no longer a penalty for guessing, and various sections have been reorganized. Generally, the new exam is meant to be a better measure of student success in college and the workforce because of its stronger focus on those pesky real-world skills.
"We've found that when students can engage with the material, their retention increases and they're able to perform better on standardized tests," says Ellen Siminoff, president and CEO of Shmoop. "And that's why Shmoop Test Prep works. Plain and simple."
Individual test-takers can subscribe to Shmoop for a low monthly rate, and schools and districts can get major discounts by contacting sales(at)shmoop(dot)com. Either way, users get access to Shmoop's virtual classrooms and analytics, so they can make sure they're focusing on the right areas and be ready to unleash the beast—er, No. 2 pencil—on test day.
About Shmoop
Shmoop offers hundreds of thousands of pages of original content. Their Online Courses, Test Prep, Teaching Guides, Learning Guides, and interactive Study Tools are written by teachers and experts and balance a teen-friendly, approachable style with academically rigorous concepts. Shmoop sees 11 million unique visitors a month across desktop and mobile. The company has won numerous awards from EdTech Digest, Tech & Learning, and the Association of Educational Publishers. Launched in 2008, Shmoop makes the magic happen from a labradoodle-patrolled office in Mountain View, California.
SAT is a registered trademark of the College Board, which was not involved in the production of, and does not endorse, this product.