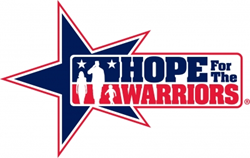 Washington, DC (PRWEB) November 03, 2015
Hope For The Warriors® is pleased to announce that local Army veteran SFC Angela Green will be honored at the Got Heart, Give Hope® Celebration in Washington, DC on November 4, 2015. The theme of this year's Celebration is "Women Who Inspire Through Service." Green will be recognized for her service and leadership to military families in her community. All proceeds of the event will go to Hope For The Warriors®, a national nonprofit dedicated to restoring a sense of self, restoring the family unit, and restoring hope to our service members and our military families.
Green grew up on Long Island and graduated from Uniondale High School. Immediately after, she enlisted in the United States Army. She remained Active Duty for three years and then joined the Army Reserves, where she has served for the past 27 years.
Green deployed twice to Iraq with the 310th Military Police Battalion—first from January 2003–April 2004, then again from January 2006–July 2007. Upon becoming a reservist, Green joined the NYPD until her retirement in August 2013. Her last position was in downtown Manhattan in the Chief of Department's Office. She is currently the Brigade S3 Operations with the 333rd Military Police Brigade in Farmingdale, NY.
Beyond her service within the military and NYPD, Green serves her community extensively and enthusiastically through hours of volunteer work. She is an active member of a US veterans' motorcycle club and serves in the Family Support Program for her Reserve Unit. Through her involvement she has supported multiple nonprofit organizations, including planning and attending veterans' events, supporting the individual needs of wounded service members, and helping the relief efforts of Hurricane Sandy.
Green is now pursuing a Criminal Justice Degree at John Jay College. She is a four-year breast cancer survivor and three-year survivor of Pulmonary Embolism. While focusing on her own battles, she has made her service to others a priority. Green continues her impact in multiple New York military communities through her extensive leadership, activism, and volunteerism.
The highlight of the Celebration will be the presentation of The Vigiano Family Hope & Courage Awards to seven honorees—service members and veterans, civilians and caregivers—focusing on the HOPE they symbolize through their remarkable stories and service.
The Honorees:

SPC Catherine Bane, USA
SFC Angela Green, USAR
Courtney Spaeth, CEO of growth.[period]
Jan Vigiano, Gold Star Mother
Lee Woodruff, Caregiver
Juana Carrizales, USMC Caregiver
Erin Thede, Director of Employer Partnership
For more information on the Got Heart, Give Hope® Celebration, please visit http://www.gotheartgivehope.org.
###
Hope For The Warriors® Mission Statement
We believe those touched by military service can succeed at home by restoring their sense of self, family, and hope. Nationally, Hope For The Warriors® provides comprehensive support programs for service members, veterans, and military families that are focused on transition, health and wellness, peer engagement, and connections to community resources.
Hope For The Warriors® has earned a Four-Star Rating from Charity Navigator (http://www.charitynavigator.org) for four consecutive years. Charity Navigator is an independent organization that evaluates fiscal responsibility and accountability of nonprofits.
Hope For The Warriors® (Federal Tax ID 20-5182295) is a 501(c)(3) tax-exempt charity as defined in sections 509(A)(1) and 170(B)(1)(A)(VI) of the Internal Revenue Code. Combined Federal Campaign, CFC #27800.