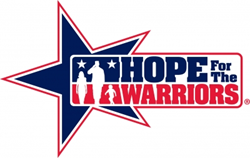 Washington, DC (PRWEB) November 03, 2015
Hope For The Warriors® is pleased to honor local Gold Star Mother Jan Vigiano at the Got Heart, Give Hope® Celebration in Washington, DC on November 4, 2015. The theme of this year's Celebration is "Women Who Inspire Through Service." Vigiano will be recognized for her service and leadership to the military community. All proceeds of the event will go to Hope For The Warriors®, a national nonprofit dedicated to restoring a sense of self, restoring the family unit, and restoring hope to our service members and our military families.
Vigiano was born and raised in New York, New York where she met her husband John Vigiano, United States Marine and highly decorated retired FDNY Captain. Together they had two sons, John, Jr. and Joe. Both sons followed in their father's footsteps of service—John, Jr. serving as a fireman and Joe as a New York City Police Detective. On September 11, 2001, both John, Jr. and Joe lost their lives while bravely and selflessly rescuing those trapped in the World Trade Center.
After the 9/11 tragedies, Vigiano turned this tragedy into an opportunity to share hope. The Vigianos go above and beyond to honor and support the brave men and women who answered the call to defend our nation's freedoms. In 2006, they joined the Hope For The Warriors® family and have made it their mission to personally thank troops in Iraq, visit wounded service members and their families in medical facilities, and host fundraising events in their local community to support Hope For The Warriors® programs.
One of the many highlights of Vigiano's journey with Hope For The Warriors ® was attending a Marine Corps Birthday Ball at Camp Lejeune, where she spent time at the Hope and Care Center. Another highlight was celebrating Christmas with wounded service members and military families under care at medical facilities in New York City. Her passionate service is a testament to her dedication to her fallen sons and military families.
Vigiano resides in Long Island, New York with her husband. She is currently working on the "Support America's Heroes" fundraiser for Hope For The Warriors®, taking place on November 7 in Long Island, NY.
The highlight of the Got Heart, Give Hope® Celebration will be the presentation of The Vigiano Family Hope & Courage Awards to seven honorees—service members and veterans, civilians and caregivers—focusing on the HOPE they symbolize through their remarkable stories and service.
The Honorees:

SPC Catherine Bane, USA
SFC Angela Green, USAR
Courtney Spaeth, CEO of growth.[period]
Jan Vigiano, Gold Star Mother
Lee Woodruff, Caregiver
Juana Carrizales, USMC Caregiver
Erin Thede, Director of Employer Partnership
For more information on the Got Heart, Give Hope® Celebration, please visit http://www.gotheartgivehope.org.
###
Hope For The Warriors® Mission Statement
We believe those touched by military service can succeed at home by restoring their sense of self, family, and hope. Nationally, Hope For The Warriors® provides comprehensive support programs for service members, veterans, and military families that are focused on transition, health and wellness, peer engagement, and connections to community resources.
Hope For The Warriors® has earned a Four-Star Rating from Charity Navigator (http://www.charitynavigator.org) for four consecutive years. Charity Navigator is an independent organization that evaluates fiscal responsibility and accountability of nonprofits.
Hope For The Warriors® (Federal Tax ID 20-5182295) is a 501(c)(3) tax-exempt charity as defined in sections 509(A)(1) and 170(B)(1)(A)(VI) of the Internal Revenue Code. Combined Federal Campaign, CFC #27800.