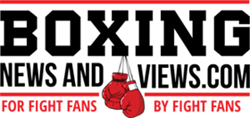 (PRWEB) November 03, 2015
Boxing News and Views was featured on NewsWatch as part of its monthly Tech Report, which features the latest and coolest technology products available to consumers. Amanda Forstrom, a technology expert and special reporter for NewsWatch, conducted the review and shared with viewers how this exciting new website shares the latest news on everything boxing.
Boxing has long been a popular sport. But despite its popularity, there aren't really any dedicated websites that cater to boxing fans exclusively. Well, except for boxingnewsandviews.com.
This website is chock-full of boxing news and editorials for the passionate boxing fan. With over 30 writers contributing and growing, putting out 3 to 5 boxing stories a day, there's no lack of content. With everything from interviews and videos, to fight results and polls, to well-fleshed out articles, this site will satiate even the most avid fan's appetite. It's not limited to just U.S. fighters either. They cover thousands of fighters in the U.S., U.K., Ireland, South America, Europe and on and on.
Boxing News and Views fans don't have to worry about needing to be on a desktop to enjoy the site either as they have a highly aesthetic mobile site that contains all the content from the full site. And to make sure fans don't miss anything, they can check out their Twitter and Facebook accounts as well.
To learn more, visit http://www.boxingnewsandviews.com today.
About NewsWatch
NewsWatch is a weekly 30-minute consumer oriented television show that airs on the Discovery Channel and ION Network. NewsWatch regularly features top technology products and services, mobile applications for iOS, Android, and Windows devices, unique and beautiful travel destinations around the world, health and medical tips, and entertainment interviews on the show. NewsWatch airs on the Discovery Channel at 7:00 – 7:30 AM ET/PT.
NewsWatch is located in the greater Washington, DC area and has been on air for over 25 years. For more information or to watch the most recent episode, visit http://newswatchtv.com/tech-report.html.