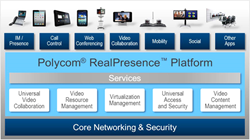 (PRWEB) November 12, 2015
NewsWatch featured Polycom's RealPresence Web Suite as part of its monthly Tech Report, which features the latest and coolest technology products available to consumers. Amanda Forstrom, a technology expert and special reporter for NewsWatch, conducted the review and shared with viewers how this is a web collaboration tool that has high end voice, video, and content sharing tools.
Mostly everyone works in some type of environment where they have to join meetings, share information, and collaborate regardless of location. Polycom's RealPresence Web Suite is a web collaboration tool that has high end voice, video, and content sharing tools, allowing people to join an existing meeting, start an impromptu one, or schedule a future meeting regardless of their location.
All users need is a web browser and then they can start sharing multiple documents with multiple participants in the meeting. The meeting's host can allow other participants to share content with up to 6 documents viewed at once. And participants on the call can annotate in real time. During the meeting, users can "point" to a section of the document or presentation they're talking about for emphasis. They can even pre-attach documents while scheduling so when the meeting starts everything's all queued up.
The key to RealPresence Web Suite is the ease with which you can host or join web collaboration meetings. RealPresence Web Suite lets users easily arrange meetings by automatically sending calendar invitations so participants can simply click to join. Now, the workplace of the future is all about open and collaborative environments, with quality user experiences and integrated workflows.
To learn more, visit http://www.polycom.com today.
About NewsWatch
NewsWatch is a weekly 30-minute consumer oriented television show that airs on the Discovery Channel and ION Network. NewsWatch regularly features top technology products and services, mobile applications for iOS, Android, and Windows devices, unique and beautiful travel destinations around the world, health and medical tips, and entertainment interviews on the show. NewsWatch airs on the Discovery Channel at 7:00 – 7:30 AM ET/PT.
NewsWatch is located in the greater Washington, DC area and has been on air for over 25 years. For more information or to watch the most recent episode, visit http://newswatchtv.com/tech-report.html.