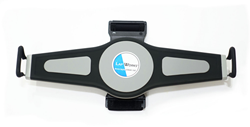 Users can say goodbye to hand fatigue and sore fingers from handling supersized iPads and Tablets.
RANCHO CUCAMONGA, Calif. (PRWEB) November 04, 2015
Apple's introduction of its now iconic iPad in 2010 was a shot across the bow to the mobile device universe. It marked the start of a race that has since transformed an entire industry and influenced wholescale consumer behavior – literally transforming the way many people go about their daily lives. In response, many of the major PC and phone manufacturers, along with a fair amount of newer players, were quick to introduce their own Android-based tablets.
The period since has evolved into a race pitting Apple against the Android and Windows-based tablet manufacturers in a quest to deliver multifunctional devices capable of meeting the ever evolving demands of the consumer. The new mantra is bigger, lighter, faster and more loaded.
Seeking to maintain their position at the front of the field, Apple is set to start delivering their highly-anticipated iPad Pro (equipped with a 12.9" viewable screen and weighing approximately 1.6 lbs.) in November. Matching Apple's move and building on the success of their Surface Pro 3, Microsoft just announced their newest Surface devices, the Surface Pro 4 (12.3" display) and Surface Book – a laptop-first tablet device boasting a slightly larger display than the iPad Pro. And there's no doubt we'll soon see many more entrants in this "Pro-sized" tablet competition.
Lost in this race to deliver supersized, supercharged devices is the fact that with the good comes some unintended consequences that are less than optimal for users. Larger machines are inherently more cumbersome, creating issues involving improper ergonomics and associated problems. As a result, users are more susceptible to issues ranging from carpal tunnel to text neck and iPad shoulder. Bottom line, as we supersize the machines, we are supersizing some of the unintended consequences.
Thanks to LapWorks, there's good news for the supersizers out there who might encounter such issues. The California-based company, a leader in creating ergonomically-focused mobility accessory products, has introduced the Gripzilla Pro, a soft-grip tablet holding device built specifically to safely and comfortably secure any of the new breed of supersized devices, including the iPad Pro, Surface Pro 4, Surface Book, and the multitude of larger tablets soon to flood the market. It's also completely compatible with last year's larger models, such as the Surface Pro 3 and Samsung Galaxy Pro 12.2.
Designed to easily handle the bigger machines (12" x 3.5", extends to 16.5" at full stretch), the Gripzilla Pro is rugged and durable, yet it remains lightweight (weighing 7.8 oz.) due to the use of high-impact ABS, polycarbonate and Zinc alloy materials in its construction. Recognizing that users have been known to hold their iPads and Tablets for hours on end, comfort hasn't been sacrificed – the unit incorporates a 2" wide, stay cool, neoprene-lined adjustable Velcro hand strap that's capable of accommodating any hand size. Similar competitor products incorporate stiff leather or ballistic nylon, neither of which are gentle on hands during lengthy periods of use.
The unit boasts a swiveling hub that rotates 360 degrees, enabling easy switching from portrait to landscape, or anywhere between. It can be quickly and easily converted into a rotatable tablet stand or it can be detached, enabling the user to attach the EZconnect Adapter, which comes included with the Gripzilla Pro. The EZconnect Adapter allows users to easily attach their iPad Pro, Surface Pro (3, 4 or Book) or other Pro-sized tablet devices to LapWorks' 4-prong stands and mounts, including the Sky Crane Floor Stand, Armbot Desk, Wall and Car Mount, and the RoboTX Deluxe Desk Mount.
When it comes to performance and usability, the Gripzilla Pro is built for speed and endurance – it even has the racing stripes to prove it. The tablet holder is quick and easy to use for both left and right handed users, lined with hard rubber non-slip pads and incorporating strong, reliable spring-loaded arms that secure rubber-lined metal "corner capture bars" that are guaranteed not to scratch mobile device surfaces. The unique "corner capture system" locks into place and never fails. It allows users to select which corners of the tablet are covered, so buttons, ports and cameras remain available for use. Overall, the Gripzilla Pro's unique design makes the unit effortless to use – attaching and removing an iPad Pro, Surface Pro (3, 4 or Book) or Pro-sized Tablet can be done in two seconds flat.
Bottom line, the Gripzilla Pro will help fight fatigue and cramping, reduce tablet heat by as much as 10 degrees and deliver a hassle free, comfortable user experience with each and every use.
The LapWorks' Gripzilla Pro handle is now available online. The retail price is $69.95, but it is available at the discounted price of $44.95, with free shipping. For more information visit the manufacturer's websites at http://www.laptopdesk.net and http://www.heldtite.com/.
About LapWorks Inc.
Founded in 2000, LapWorks is committed to providing customers with high-quality ergonomic accessories that make a person's mobile life easier. LapWorks latest offerings, the Tablet Handler Pro and Gripzilla Pro tablet handlers, add yet more outstanding products to the company's impressive line-up of iPad, Tablet, notebook and gaming accessory solutions for everyone from homemakers to corporate professionals. Browse the company's selection of iPad and Tablet accessories at http://www.laptopdesk.net or http://www.heldtite.com, or call 888-527-3375 to speak to a knowledgeable customer service agent.
For further information, please contact:
José Calero
President, LapWorks Inc.
(888) 527-3375
jose@laptopdesk.net
###