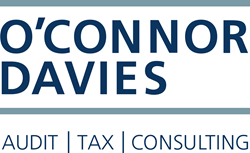 New York, NY (PRWEB) November 03, 2015
O'Connor Davies, LLP, one of the nation's fastest growing accounting and consulting firms, announced today that it has named industry veteran Donald Logan Chief Information Officer (CIO). Logan, who brings more than 15 years of technology leadership experience in the professional services space, will drive the information technology strategy needed to support the firm's ongoing business expansion. He is the latest high profile hire for O'Connor Davies, which has grown from 399 employees to nearly 600 across a variety of specialty practices in just over two years.
In his role as CIO, Logan will lead all aspects of O'Connor Davies' technology strategy, from managing internal staff and systems, to infrastructure expansion and updates to integration of disparate technologies related to ongoing growth and acquisitions. Logan is a proven technology leader with deep expertise across technology functions in the professional services space. He joins O'Connor Davies from a top-100 professional services firm, where he supported the firm's business goals while managing a multi-million budget as director of technology. Previously he served as manager of information technology for a national accounting firm.
"As our business continues to grow and evolve it's become clear we need a technology leader to help us support that growth and stay ahead of the curve and Donald fits that bill to a tee," said O'Connor Davies Managing Partner Kevin J. Keane. "He not only understands technology but he understands how to leverage technology for the good of the business. He's a strategist, he's a strong leader and he's exactly the kind of top-notch professional that we can build on for the future."
"The recent growth of O'Connor Davies from a business standpoint and a reputation standpoint has been remarkable and I'm excited to be part of it," said Logan. "I'm confident that my experience leading technology initiatives and teams at professional services firms at varying stages of development has prepared me well to lead the IT team and function at O'Connor Davies. I look forward to a new challenge at what is fast becoming one of the top firms in the industry."
About O'Connor Davies, LLP
O'Connor Davies, LLP is a full service Certified Public Accounting and consulting firm with a long history of serving clients both domestically and internationally. With roots tracing to 1891, eight offices in New York, New Jersey, Connecticut and Maryland, and more than 550 professionals, led by 90 partners, the Firm provides specialized professional services and a complete range of accounting, auditing, tax and management advisory services of the highest quality.
O'Connor Davies is ranked number 29 in Accounting Today's 2015 "Top 100 Firms" list and the Firm is also recognized as a "Leader in Audit and Accounting," a "Pacesetter in Growth" and one of the "Top Firms in the Mid-Atlantic." O'Connor Davies is ranked number 29 in INSIDE Public Accounting's 2014 "Top 100 Firms" list and the Firm is recognized as one of the "Top Ten Fastest-Growing Firms." O'Connor Davies is also among the 20 largest accounting firms in the New York Metropolitan area, according to Crain's New York Business and the Westchester and Fairfield County Business Journals. By consistently delivering proactive, thorough and efficient service, the Firm has built long-lasting, valuable relationships with its clients. Partners are intimately involved in the day-to-day management of engagements, ensuring a high degree of client service and cost effectiveness. The Firm's seasoned professional staff members employ a team approach to all engagements to provide clients with the utmost quality and timely services aimed at helping them succeed. Continuity of staffing and attention to detail in all client engagements make the Firm stand out among its competitors.
O'Connor Davies is a member of PKF International, a network of legally independent member firms providing accounting and business advisory services in 440 locations in 150 countries around the world. With its tradition, experience and focus on the future, O'Connor Davies is ready to help clients meet today's ever-changing economic conditions and manage the growing complexities of the regulatory environment.