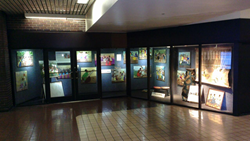 Pax Rwanda is art that heals wounds... with a needle and thread.
New York, NY (PRWEB) November 03, 2015
A unique collection of vibrant embroideries depicting Rwandan culture and East African flora and fauna will be on view at the Port Authority Bus Terminal's Ninth Avenue entrance during the month of November 2015. The exhibit, entitled "Pax Rwanda: Embroideries of the Women of Savane Rutongo-Kibuye" is comprised of works by women survivors of the 1994 Genocide Against the Tutsis—both Hutu and Tutsi—working together as part of the reconstruction and reconciliation that characterizes modern Rwanda.
The collection was started in 2010 when Juliana Meehan, a New Jersey educator touring Rwanda, discovered the extraordinary textiles in a small shop in the Rwandan capital of Kigali. Meehan recognized the superior quality of their work and the importance of their efforts at peace and unity and began an effort to support them by exhibiting and selling their work in the USA.
Meehan explained, "One woman was just about to get married when her young man was killed in the genocide. Other artisans are widows; some are the children of survivors, and still others have men in prison. They work together in the hope that their children will have a brighter future."
The textile workshop—known as "Savane Rutongo-Kibuye"—was founded by Christiane Rwagatare, a Rwandan who lived much of her early life in exile because of Rwanda's political turmoil. Upon returning to Rwanda in 1994 following the genocide that claimed the lives of more than 800,000 men, women, and children, Rwagatare discovered a group of village women selling small embroidered items for their livelihood. Noticing their skill and desiring to help in Rwanda's reconstruction, Rwagatare conceived the idea of a workshop where they might create these full-size fine art textiles.
Rwagatare announced that anyone interested in working in an "embroidery cooperative" should come to the local church at a designated time. More than 100 women answered the call, although she could only take fifteen with the best embroidery skills. That was the start of the workshop.
Their technique involves loading three different colors of thread onto one needle, producing subtle blends of colors that bring their compositions to life. Each unique piece requires an average of three months of meticulous effort by several artisans.
Meehan purchases the works through her small business, Rutongo Embroideries LLC, at prices set by the workshop. Since discovering them in 2010 and undertaking to sell their work in the United States, Meehan has seen their wages rise.
According to Meehan, "Everywhere I have exhibited these works—in museums and galleries in the New York metropolitan area, Washington DC, and Columbus, Ohio—people have received them with great enthusiasm and awe."
About the Curator - Juliana Meehan
Meehan teaches middle-school English in Bergen County, NJ, and holds degrees in English literature and anthropology.