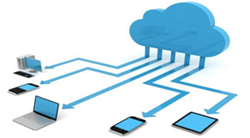 (PRWEB) November 12, 2015
NewsWatch featured Cognitier's HomeWeb as part of its monthly Tech Report, which features the latest and coolest technology products available to consumers. Amanda Forstrom, a technology expert and special reporter for NewsWatch, conducted the review and shared with viewers how this allows people to securely access their computer files when they're out and about.
Everyone's probably been out and about and needed something that's on their home or work computer. And since this is the 21st century, there's tools that will allow people to access all the files on their computer. Check out this new service called HomeWeb by Cognitier.
HomeWeb allows people to securely access all the files on their computer's hard drive and do any manner of tasks like printing or sending e-mails, all remotely. While other cloud-based services allow people to view a snapshot of files that were last uploaded to the cloud, HomeWeb allows people direct access to their hard drive. They like to think of it as a reverse-cloud where instead of accessing the cloud from a computer, the computer is the cloud and users can access it from anywhere, including their smartphone.
To use HomeWeb, all people have to do is download the software onto their computer and then enter their e-mail address into it. If they're on their phone, they just open their web browser and within a few seconds and taps they'll have access to their home computer files. They'll then receive an e-mail with a personalized web address that gives you a direct portal into their hard drive from any browser. The best part about HomeWeb is that it's free.
To learn more, visit http://homeweb.cognitier.com today.
About NewsWatch
NewsWatch is a weekly 30-minute consumer oriented television show that airs on the Discovery Channel and ION Network. NewsWatch regularly features top technology products and services, mobile applications for iOS, Android, and Windows devices, unique and beautiful travel destinations around the world, health and medical tips, and entertainment interviews on the show. NewsWatch airs on the Discovery Channel at 7:00 – 7:30 AM ET/PT.
NewsWatch is located in the greater Washington, DC area and has been on air for over 25 years. For more information or to watch the most recent episode, visit http://newswatchtv.com/tech-report.html.