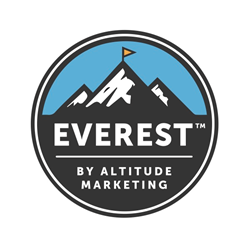 Everest is a turnkey solution offering both content creation and the most commonly used features of marketing automation software platforms ... with a relatively small investment.
Emmaus, Pennsylvania (PRWEB) November 03, 2015
Altitude Marketing, an integrated marketing agency serving technology-focused B2B companies, is pleased to announce the launch of Everest™, a new, full-service marketing automation solution. With Everest, Altitude clients can enjoy many of the benefits of enterprise-class marketing automation platforms at a fraction of the cost and hassle they require.
Available exclusively to Altitude Marketing clients, Everest combines the power of best-in-class technology with insight and IP generated over the course of Altitude's decade-plus in the B2B marketing space. Unlike most enterprise marketing automation platforms, which charge users for the license to simply use their lead nurturing and inbound marketing tools, Everest campaigns include just the right mix of conceptualization and counsel, content creation, design, technology integration, landing page creation, advertising and analytics.
As a result, potential buyers receive a highly personalized brand experience: Emails, targeted advertisements, offers and more are automatically triggered by prospects' actions, regardless of where they stand in the conversion funnel. The goal? Delivering a steady stream of highly qualified, educated prospects to the sales team, with minimal effort after initial campaign setup.
"So-called 'marketing automation software' is probably the trendiest thing in B2B marketing today," said Andrew Stanten, president, Altitude Marketing. "Problem is, as great as these platforms are, they are cost-prohibitive for many companies and far too complex for many organizations' needs. Monthly licenses can easily run into the thousands of dollars, and that doesn't include content, creative or campaign logic. After all, you're only paying for the right to use the tool – not the results.
"That's why we've developed Everest. Everest is a turnkey solution offering both content creation and the most commonly used features of marketing automation software platforms – automated lead nurturing, dynamic content delivery, campaign design and analytics – with a relatively small investment. Best of all, because Everest leverages technology and subscriptions already in use by Altitude, it can deliver real results – and very happy salespeople – in a matter of months. Whether you're prospecting on your website or need to automate follow-up after a trade show, Altitude and Everest get the work done for you."
To learn more about Everest marketing automation from Altitude Marketing, visit altitudemarketing.com/everest, email laura@altitudemarketing.com or call 610-421-8601 x109.
About Altitude Marketing
Altitude Marketing, a full-service, integrated marketing firm, serves the unique needs of technology-oriented B2B companies from early-stage to established. Altitude is headquartered in Pennsylvania's Lehigh Valley, near Philadelphia, Princeton and New York, and within driving distance of Boston and Washington, D.C.
Learn more at http://www.altitudemarketing.com or follow us on Twitter, Facebook and Google Plus.
###