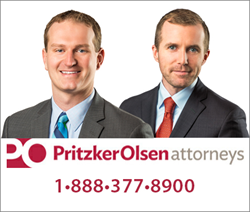 Minneapolis, MN (PRWEB) November 02, 2015
A lawsuit was filed against Chipotle Mexican Grill, Inc. today on behalf of a woman who alleges she contracted E. coli food poisoning from food sold by the company's restaurant located at 7715 NE 5th Avenue, #109, Vancouver, Washington (Vancouver Chipotle). Pritzker|Olsen attorneys Brendan Flaherty and Ryan Osterholm filed the suit in the United States District Court for the Western District of Washington on November 2, 2015 (Case 3:15-cv-05790).
"This outbreak will likely only get larger as more cases are reported over the coming days and weeks" said Attorney Ryan Osterholm, who alleged as such in the Complaint, which can be found on the Pritzker|Olsen website.
In mid-October 2015, the Washington and Oregon Departments of Health noticed an uptick in bacterial infections caused by Shiga-toxin producing E. coli (STEC), according to the Complaint filed in the case. Genetic testing on E. coli bacteria isolated from patient stool samples allegedly found that cases in the two states were connected.
Epidemiological trace-back investigations allegedly implicated Chipotle restaurants in Washington and Oregon as the source of the outbreak. And on October 31, 2015, Chipotle allegedly closed forty-three (43) restaurants in those states, according to the Complaint.
Over twenty confirmed cases of E. coli food poisoning have allegedly been linked to the Chipotle outbreak, according to the Complaint, which goes on to list several past outbreaks linked to Chipotle restaurants: a 2015 Salmonella outbreak in Minnesota, a 2015 Norovirus outbreak in California, a 2009 outbreak of E. coli O157:H7 in Colorado, Utah and New York; and a 2009 outbreak of Campylobacter in Minnesota.
The lawsuit alleges the Plaintiff (person suing Chipotle) consumed a burrito bowl on October 21, 2015, at the Vancouver Chipotle. Four days later she developed symptoms of E. coli food poisoning, including nausea and severe diarrhea, which soon became bloody. She sought medical treatment and tested positive for the presence of Shiga-toxin producing E. coli (STEC). Plaintiff's case was linked to the multi-state Chipotle E. coli outbreak through genetic testing.
Pritzker|Olsen Law Firm
Pritzker|Olsen, P.A., is a national food safety law firm that represents people sickened in foodborne outbreaks throughout the United States. Attorneys Brendan Flaherty and Ryan Osterholm can be reached at 1-888-377-8900 or via the firm's website, http://www.pritzkerlaw.com. The firm's offices are located at 45 South 7th Street, Suite 2950, Minneapolis, Minnesota 55402.