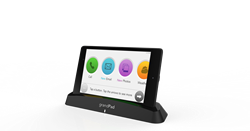 Orange, CA (PRWEB) November 03, 2015
grandPad announced today its partnership with Alta Home Care in a collaboration between a technology company and a home care agency that are both focused on supporting the growing number of seniors who choose to "age in place" living at home as long as possible.
The grandPad senior-friendly tablet, the company's flagship product, is a lightweight 7-inch device that is customized for each user with apps, music, videos and functions such as video calling all for a $60 monthly subscription, a cost that includes the tablet. The partnership with Alta Home Care provides the grandPad to Alta's clients to help them avoid isolation, stay connected with family and friends and engage in the activities that bring them enjoyment – whether it's watching a Frank Sinatra music video or playing Solitaire – all from the comfort of their home.
Alta Home Care is one of the nation's leading home care agencies with locations in Los Angeles, Pasadena, Inland Empire, Orange County and Palm Springs. The partnership with grandPad is complementary to Alta's focus on compassionate care and highlights the company's desire to think of the quality of life of their clients as well as their care needs. The grandPad tablet is quickly becoming the device of choice for family caregivers and their older loved ones with customers in every state nationwide.
A real concern for the nation's 44 million family caregivers who are caring for an older loved one who lives at home is the risk of isolation that can lead to health and safety risks. By having the grandPad tablet and service, caregivers have the confidence they are connected with a push of the button while also providing their loved one with an outlet for activities they may miss such as listening to music, playing games or watching videos. By choosing a home care agency that also has the grandPad value-added device, caregivers have greater peace of mind.
"Our partnership with Alta Home Care is another great collaboration to reach seniors who live at home with comprehensive 'care and connection' support," said Scott Lien, CEO and co-founder of grandPad who is also a long-distance caregiver for his older mother. "We have the same goals to keep seniors safe, healthy and happy. Our relationship with Alta lets us reach more than 4,000 families and seniors across Southern California to reach those goals."
Lien explains the choice of a tablet device makes sense for seniors, although many wrongful perceptions are that older Americans over age 75 are not tech-savvy. Tablets are lightweight, use touchscreen technology that allows arthritic or shaky hands to still use the device, large font size helps with declining eyesight and grandPad personalizes each tablet to the user. Videos, music, phone numbers for family members – all information is pre-programmed for the user before the device ships so there is no set-up or connection problems.
Statistics show a growing number of seniors are living alone. The Administration on Aging reported that 47 percent of women over age 75 live alone and the Alzheimer's Association found 25 percent of people diagnosed with dementia live on their own. In addition, according to the National Council on Aging, one in three Americans over age 65 experience a fall at home. The isolation of living alone can lead to increased health risks, which is why families turn to home care agencies to help keep older loved ones safe and provide the care when they cannot be there.
"Alta Home Care understands the critical need for seniors to stay connected with their loved ones and care providers," said Matt Smith, president of Alta Home Care. "grandPad's unique and personal tablet is the perfect complement to the in-home care services we provide. We believe that our partnership with grandPad will greatly enhance the social and mental well being of the seniors in our care and ultimately will create a more positive aging-in-place experience".
About grandPad
grandPad was founded on the idea that technology should help bring families together. The misson of grandPad is to provide a solution that is intuitive, engaging and safe. The company's flagship product, the grandPad, is a tablet computer for people who want a simple, safe solution that connects them with family, friends and professional health care workers. Simple joys should be simple to share. Learn more at: grandpad.net.
About Alta Home Care
Alta Home Care is a national leader in providing in- home care services. The company's goal is to assist families in making the best and most informed care decisions for their loved ones. With offices across Southern California, Alta Home Care has been serving seniors and their families for over 12 years. With a blend of care management, clinical oversight, and staffing coordination, Alta Home Care is uniquely positioned to deliver the highest quality private duty in-home care for the families they serve. With strategic partnerships across the care continuum Alta Home Care continues to be a leader and resource for families who are in need of care