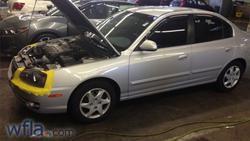 "The entire staff at Crown Automotive Group is committed to honesty and integrity, and events like this one highlight that fact." - Chris Sanborn
ST. PETERSBURG, FLORIDA (PRWEB) November 03, 2015
An employee of Crown Automotive Group recently discovered an envelope containing $10,000 cash in a vehicle that had been traded into the dealership, and with the help of his manager, made sure it was returned to its rightful owner.
Brett Cadorath is a used car technician at Crown Hyundai in St. Petersburg, and he found the envelope as he was cleaning out a Hyundai Elantra trade-in. Service Manager Chris Sanborn worked with Cadorath to find the owner-- a 70-year-old area woman who had recently been widowed. Though she prefers to remain anonymous, she said that the money had been put away as a surprise gift from her late husband.
The woman's daughter, Belinda Sawyers, told reporters that her father passed away about two years ago, and that the Hyundai Elantra had been a gift from him to his wife. She and her mother were both very grateful to Cadorath, Sanborn and the Crown Automotive Group team.
"The entire staff at Crown Automotive Group is committed to honesty and integrity, and events like this one highlight that fact," said Sanborn. "This is an organization that I'm proud to be a part of."
Those who are interested in learning more about this story, or in finding out what Crown Hyundai has to offer, can visit the dealership at 5301 34th St. N in St. Petersburg or online at http://www.crownhyundai.com.
ABOUT CROWN AUTOMOTIVE GROUP
Crown Automotive Group has been in business for more than 40 years, and currently operates domestic and international automotive franchises in Florida, Ohio and Tennessee. The group is dedicated to customer and employee satisfaction, and is your source for new and pre-owned vehicles, parts and service, financing and more. No matter what you're looking for, you can be confident that you are getting an incredible deal and outstanding service when you visit one of the many dealerships that make up Crown Automotive Group.