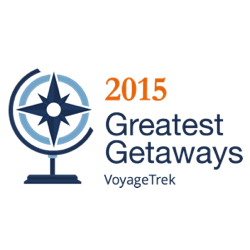 These rankings are a reflection of destinations that are truly memorable for people.
Kirkland, Wash. (PRWEB) November 03, 2015
VoyageTrek, an online travel publisher based in Kirkland, Wash., released the first set of rankings in their 2015 Greatest Getaways series, where over 1,000 luxury travelers were surveyed to determine the world's best destinations. Surveys were distributed to world travelers and the rankings were based on their answers and insights, meaning these rankings showcase destinations that are truly valued in each subject area. VoyageTrek's mission is to help people plan their next travel adventure by providing travel rankings, traveler reviews, and connecting travelers to award-winning tour companies. This set of four rankings will kick off a bi-weekly series based on a variety of travel interests and will continue into next year.
"Instead of creating an editorialized list of destinations, we felt it was important to gather insights from luxury travelers and base our rankings on their exceptional travel experiences," said Sung Rhee, CEO of VoyageTrek. He continued, "these rankings are a reflection of destinations that are truly memorable for people."
At the top of the Best Small Towns list is Cusco, Peru, a mountain town in the Andes that has many preserved buildings and stone streets, including the world-famous site of Machu Picchu. Siena, Italy and Bruges, Belgium round out the top three. Despite being popular spots for tourists, these destinations offer an authentic small town feeling for travelers. The towns found on this list were only considered if they had a population of 500,000 people or less. Visit http://www.voyagetrek.com/rankings/small-towns to view the complete list.
Paris, France tops the list for the Best Cities for Food. With an array of local dishes, including artisan cheeses, flaky pastries and crepes from local food vendors, Paris keeps the foodie traveler coming back for more. New York City, New York and Rome, Italy are second and third on the list, respectively, giving travelers a food experience they aren't soon to forget. Go to http://www.voyagetrek.com/rankings/cities-for-food to see all the cities on the list.
Maui, Hawaii ranks number one on the list of Best Beach Destinations for 2015. With crystal clear waters and silky white sand, it's not difficult to see why Maui's beaches are a traveler favorite. The beaches of Cancun, Mexico and Turks and Caicos were also voted in the top three, with their ideal ocean lounging conditions. When planning a beach vacation, this list of destinations is sure to inspire a return visit. Visit http://www.voyagetrek.com/rankings/beaches to check out all the world's best beaches.
Finally, the Grand Canyon in Arizona, USA was voted number one in the list of the Best Landmarks of 2015. With its unique rock formations set against the winding Colorado River, it's clear why this is a traveler favorite. Peru makes another appearance, with Machu Picchu earning the number two spot in the Top Landmarks, followed by the Great Wall of China. Take a look at the entire list by visiting http://www.voyagetrek.com/rankings/landmarks.
About VoyageTrek
Based in Kirkland, WA and founded in 2007, VoyageTrek has connected thousands of travelers with award-winning tour companies and hundreds of destinations around the world. VoyageTrek works with top travel companies and has collected over 500 travel reviews to help travelers get the information they need to book their dream vacation. In addition, VoyageTrek curates a regular newsletter with exclusive travel deals and advice. For more information, please visit http://www.voyagetrek.com.