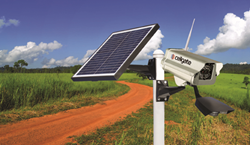 "CellCam is truly an affordable solution for security monitoring of locations, activities and assets that are in remote locations." CellGate Customer Chuck Chrapko of Lambton Fencing
Dallas, TX (PRWEB) November 02, 2015
Over the last decade, cellular-based security company, CellGate, built their business reputation on a proprietary suite of integrateable products designed around remote gate access and monitoring. Their customers include oil companies, ranches, farms, trucking companies, airports, self storage facilities and individuals who simply want to monitor and control property access via their cell phone or computer.
While working with customers on their gate security and monitoring needs, CellGate CEO, Noel Gouldin, found that these same customers often had additional remote security and monitoring needs on their properties or in other areas of their businesses. Gouldin realized that CellGate's technology could meet these needs by simply reconfiguring some of their existing product technology. This motivated Gouldin to take the CellGate technology "away from the gate" for the first time, and inspired the design of the company's latest product, CellCam, a Stand Alone Cellular Security Camera.
CellCam is designed to photographically monitor anything a customer deems valuable or important. Uses include, but are not limited to, monitoring of construction sites, water levels, equipment storage yards, remote cabins, and oilfield tank batteries. Because it is a "stand alone" self-contained product, it operates completely on its own, without the need for electricity, wired data lines or the Internet. It is designed to be a "plug and play" solution, including cellular SIM card, and is easy to install, anywhere. Photos taken by a CellCam camera are immediately transmitted to CellGate's Microsoft Azure cloud-based server, and forwarded to any cellphone or email address. Photos are stored for six months and can be accessed by CellGate's smart phone application or via any web browser.
Gouldin believes his company's new CellCam product will enhance CellGate's position as the technology leader in the cellular security and monitoring industry. "At CellGate, we strive to create feature-rich products that can be tailored to meet our customers' specific needs," says Gouldin. "CellCam offers unique options competitors simply don't provide, resulting in a better user experience and an increased number of potential applications."
CellCam's key product features include: a selection of lenses allowing customers to choose the ideal view for their particular application; and a variety of camera trigger mechanisms, including motion detection, vehicle detection, RFID, 'on demand,' a predefined schedule, or a combination of these. User management of a CellCam camera is accessible using the same web-based portal that all of CellGate products are managed through, making the monitoring of multiple CellGate products in a variety of locations simple and convenient.
Chuck Chrapko of Lambton Fencing in Petrolia, Ontario, Canada works extensively with oil refinery customers, and recently received one of the first CellCam Stand Alone Security Cameras. "CellCam is exactly what my customers have been asking for," said Chrapko. "When I received the CellCam, I was impressed with the simple modular design, and was amazed at how easy it was to install. The picture quality is great even at night. With my oil industry client base having a lot of unmanned production and refinery sites, I know they are going to love CellGate's new CellCam stand-alone camera. CellCam is truly an affordable solution for security monitoring of locations, activities and assets that are in remote locations."
Gouldin is confident that CellCam will not only be impactful for existing CellGate customers, but will attract new customers to CellGate's technology. "CellCam is the most turnkey product CellGate has developed thus far. I know we have not even scratched the surface of imagining all of the applications," said Gouldin. "That is what really excites me, anticipating all of the unexplored applications CellCam will support. The opportunities are truly endless."
CellGate provides products and services for remote monitoring over cellular networks. They are the only technology company with a complete suite of cellular-based security products—encompassing smart keypad entry, voice and camera solutions. With their smart phone application and proprietary web-based portal built on Microsoft Azure's cloud service, CellGate offers flexibility found in no other access control or monitoring solution. Visit http://www.cell-gate.com for more information and to view a live demo.