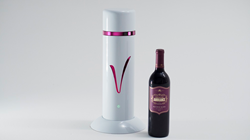 "The science of this device is backed by a decade of research, the results have been published in a peer-reviewed journal and the end product has passed the ultimate - blind taste testing"
Tampa, FL (PRWEB) November 06, 2015
FARADAY INC based out of Tampa Florida, is proud to introduce The Volt. In minutes, The Volt can accomplish what currently can take years – "aging" wine. Utilizing electricity, Volt aims to enhance your wine by mimicking the aging process. Whether your aim is to improve a $10 or $100 bottle of wine, FARADAY has the solution.
The Volt was inspired by one of the world's foremost authorities on electrochemical reactions, Michael Faraday. We hope that by utilizing Faraday's methods and techniques, The Volt can change the way wine is enjoyed and produced.
The Volt operates by applying a safe electric field to younger wines. By applying a specific voltage and frequency of current via this field to a bottle of wine, Volt is able to alter the chemical composition of the wine. This change mimics the aging process and improves the taste, aroma and mouth feel.
FARADAY has completed research and testing of the Volt. Production fund raising has begun via a new Kickstarter campaign. This will afford Faraday Inc the opportunity to test the market while raising the necessary capital to cover production costs.
The Kickstarter campaign can be located at:
https://www.kickstarter.com/projects/faraday/the-volt-aging-wine-in-less-time
"We are happy to bring a first of its kind consumer device to market. It will enable individuals to improve their wine drinking experience without any expertise or advanced knowledge of wines. Historically, the wine industry has proceeded with caution toward improvements to one of the world's most protected and traditional fields. FARADAY has plans to apply this technology for use with commercial applications. We look forward to the challenge to enhance the way the world enjoys wine." Clyde Snodgrass - CEO & Founder.
Please visit Faraday's website at http://www.FaradayInc.com for more information regarding their goals.
Alternatively, feel free to contact them directly with any questions: 844-FARADAY