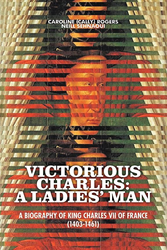 "We are proud to present this stunning history book that is not only a fascinating read, but looks at a time when the Middle Ages was transitioning into the enlightenment of the Renaissance era." - Robert Fletcher, CEO of Strategic
(PRWEB) November 19, 2015
"Victorious Charles: A Ladies' Man – A Biography of King Charles VII of France (1403-1461)" recounts the extraordinary life and loves of this king who ruled during a most tumultuous time in French history.
The early Renaissance comes alive in this wonderfully expressive historical book about France during the 1400s, and its well-known king, Charles the Seventh.
Charles was king when Joan of Arc received her vision to support his army against England's Henry V in the latter years of the Hundred Years' War. Joan was captured, tried for sorcery, and burned at the stake by the English Church. Charles is also known for the other women who touched his life. "Victorious Charles: A Ladies' Man" had many love affairs, mistresses, and women in his bed. History records his crazy mother, as well as the positive influences of his aunt, Yolande d'Aragon, and his favorite mistress, Agnès Sorel.
Moreover, Charles was known as a Warrior King, the Victorious, and the Well-Served, ruling during France's long war against England. He took the throne at age 20, when France was facing desperate times. He became an organizer through edicts, successfully leading his country through wartime and into the early Renaissance age.
About the Author: The late historian Caroline (Cally) Rogers Neill Sehnaoui was born in 1944 in Manchester, New Hampshire to a 16th-generation American family of English and Scottish descent. Her father was educated at West Point and Princeton, and her mother's ancestor was William Barton Rogers, who founded MIT in 1861. She studied political science and history at UNH and Liverpool University. When she married in Lebanon, she continued her graduate studies in history at the American University of Beirut. She lived in Paris with her husband, Elie Sehnaoui, for almost 30 years. The author did most of the research for this book in French at the Bibliothèque Nationale de Paris, having been enthused by French history, some of its great kings, and their formidable mistresses.
"We are proud to present this stunning history book that is not only a fascinating read, but looks at a time when the backward thinking of the Middle Ages was transitioning into the enlightenment of the Renaissance era. This is a powerful read," said Robert Fletcher, CEO of Strategic Book Publishing and Rights Agency.
VICTORIOUS CHARLES: A LADIES' MAN – A BIOGRAPHY OF KING CHARLES VII OF FRANCE (1403-1461) (ISBN: 978-1-62516-049-2) is now available for $30.50 and can be ordered through the publisher's website: http://sbpra.com/CarolineCallyRogersNeillSehnaoui/
WHOLESALERS: This book is distributed by Ingram Books and other wholesale distributors. Contact your representative with the ISBN for purchase. Wholesale purchase for retailers, universities, libraries, and other organizations is also available through the publisher; please email bookorder(at)sbpra(dot)net.