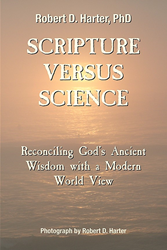 "This book is not only a fascinating read, but it provides clarity to some of the most important questions about our origins." - Robert Fletcher, CEO of Strategic Book Publishing and Rights Agency
(PRWEB) November 16, 2015
Is the Earth thousands of years old or millions? Using a scientist's analytical approach, Dr. Robert D. Harter evaluated and compared the biblical, anthropological, and geological records to find out.
His eye-opening book "Scripture Versus Science: Reconciling God's Ancient Wisdom with a Modern World View" approaches the subject of Earth's origins and human development from the position of a lifelong Christian who is also a scientist. The author grew up in a rural Ohio Christian family and understands those who believe the Earth and everything in it was created a few thousand years ago. He is also a university professor who understands why the planet is claimed to be millions of years old.
Both positions cannot be correct, though he believes that neither is completely wrong. While unlikely to provide a clear and definitive answer to the question of evolutionary science, the book does begin to clear the "fog" that has developed around the controversy.
Watch the video at: https://youtu.be/eMRuhvAj4F4
"This book is not only a fascinating read, but it provides clarity to some of the most important questions about our origins. We are pleased to announce its release," said Robert Fletcher, CEO of Strategic Book Publishing and Rights Agency.
About the Author: Now retired, Robert D. Harter, Ph.D., is a professor emeritus who taught soil chemistry at the University of New Hampshire. He earned a B.S. in agriculture from The Ohio State University in 1961 and an M.S. in 1962. In 1966, he was awarded his doctorate from Purdue University. He has authored numerous scientific journal articles and book chapters, and with his grandchildren in mind, has already written his autobiography.
SCRIPTURE VERSUS SCIENCE: RECONCILING GOD'S ANCIENT WISDOM WITH A MODERN WORLD VIEW (ISBN: 978-1-68181-076-8) is now available for $11.50 and can be ordered through the publisher's website:
http://sbprabooks.com/RobertDHarter or at Amazon.com or Barnesandnoble.com.
WHOLESALERS: This book is distributed by Ingram Books and other wholesale distributors. Contact your representative with the ISBN for purchase. Wholesale purchase for retailers, universities, libraries, and other organizations is also available through the publisher; please email bookorder(at)sbpra(dot)net.