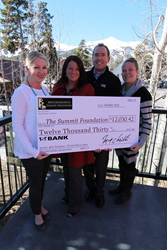 BGV defines its success by how much it positively impacts the lives of its owners, guests, employees and the community.
Breckenridge, CO (PRWEB) November 03, 2015
Autumn in Breckenridge often presents local businesses with a short reprieve before it's time to gear up for winter, but this is not the case for Breckenridge Grand Vacations (BGV). This local, family-owned company is busy with more than their award-winning vacation ownership products. Despite the recent loss of one of their beloved Owner/Developers and philanthropist Rob Millisor, BGV's charitable efforts remain in full swing, honoring the incredible example he set. After hosting another successful 2015 Fall Festival to benefit Family Intercultural Resource Center (FIRC), BGV completed another generous gift to the Summit Foundation as a result of proceeds from the 13th annual Christel House Open International Charity Golf Tournament.
On Saturday, October 17th, BGV hosted their fifth annual Fall Festival with support from the Breckenridge Tourism Office (BTO), in an effort to give back to the local community. Not only does this event offer community members a day of complimentary family fun that includes treats, arts and crafts, games, a costume parade, face painting, balloon art and bounce houses, but it also collects contributions for a very worthy cause. Their teamwork resulted in substantial proceeds for the fundraiser's beneficiary, FIRC, raising approximately $2,000 in voluntary donations from attendees. FIRC is a non-profit organization that has been supporting Summit County families for over 20 years through services that include parental coaching, crisis prevention and interventions, community supports, two thrift stores, a food bank, educational resources and assistance with cultural assimilation. Proceeds gathered at the Fall Festival went directly towards FIRC programs that focus on healthy development in children and foster resilient families in the community.
BGV continued their giving efforts on Monday, November 2nd, presenting the Summit Foundation with a $12,030 donation from funds raised at the 2015 Christel House Open. For the 12th consecutive year, this fundraiser was made possible through the partnership of BGV and Christie Lodge in hosting the event. Christel House is a rehabilitative and educational organization that focuses on empowering impoverished children internationally. Their buildings and supports influence young lives throughout the world, from Indianapolis and Mexico City to India and Africa. Since the first annual Christel House Open in 2002, more than $600,000 has been raised in 12 locations to help Christel House continue its mission to "drive out poverty." By using these funds to increase their services, Christel House is able to help break the cycle poverty creates by providing tools that cultivate independence, transforming underserved children into contributing community members.
What's next for BGV? Co.Tribute, a group devoted to corporate social responsibility is featuring BGV for recent humanitarian efforts in their blog about workplace cultures. And in two weeks, BGV will be recognized at the Seawell Grand Ballroom in Denver to receive the 2015 National Philanthropy Day award for Outstanding Large Business in Colorado from the Association of Fundraising Professionals. For more information, visit the BGV Giving website.
About Breckenridge Grand Vacations
Breckenridge Grand Vacations (BGV) is the parent company of award-winning properties: Gold Point Resort, Grand Timber Lodge, Grand Lodge on Peak 7 and the new Grand Colorado on Peak 8. Since 1984, BGV has had the honor of helping over 20,000 families create memories that last a lifetime through high-end vacation ownership. BGV has been recognized as one of the most successful, independent developers in the industry. With the motto, "Our Family Commitment, Always Grand Vacations," BGV defines its success by how much it positively impacts the lives of its owners, guests, employees and the community.