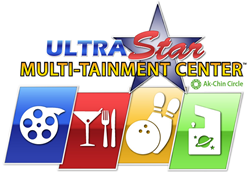 Maricopa, AZ (PRWEB) November 03, 2015
The UltraStar Multi-tainment Center at AK-Chin Circle is celebrating its third anniversary on Nov. 14, 2015 with fantastic family friendly deals and free entertainment throughout the day.
In celebration of the milestone, UltraStar is offering first-run movie tickets for only $3 (general admission) all day long. In addition, some of the $1 specials are: bowling games, laser tag, beer, hotdogs and dollar-for-dollar matching at the arcade. Throughout the day, there will be free entertainment including numerous kids' activities, Wildman Phil Reptile Show, Mr. DJ Show, special guest appearances include players and Sidewinder dancers from the Arizona Rattlers plus the YellowHouse Dancers and more. The action continues in the Luxe Lounge for those 21 and over with a free viewing of UFC193 featuring Rousey vs Holm starting at 7 p.m.
In addition, guests will have the opportunity to enter a raffle to win four two-day Disneyland Park Hopper Passes, an Arizona Coyotes suite experience for 4 courtesy of Pepsi, a Pepsi Bike or a pair of tickets to the National Football Championship game by purchasing raffle tickets for just $5 each or five for $20.
"The Ak-Chin Indian Community is honored to celebrate the third anniversary of the UltraStar Multi-tainment Center at Ak-Chin Circle," said Louis J. Manuel, Jr., chairman of the Ak-Chin Indian Community. "This milestone furthers our goal of bringing quality family entertainment to Arizona."
Adam Saks, general manager at UltraStar said, "UltraStar is about making lasting memories for the entire family and are honored to have been a part of those moments over the last three years. We are extending our thanks with a day full of entertainment and amazing deals plus a chance to catch a hit movie for only three bucks." Saks continued, "The Ak-Chin Indian Community continues to be a shining star of Entertainment for the Valley and we could not be more proud of what has been accomplished".
Details:
Date: Saturday, Nov. 14, 2015
Time: Starting at 10 a.m.
Where: UltraStar Multi-tainment Center at Ak-Chin Circle
16000 Maricopa Road
Maricopa, AZ 85139
Other free entertainment and activities throughout the day includes:

Little Miss and Mr. Ak-Chin
YellowHouse Dancers
The Ak-Chin Band
Wildman Phil Reptile Show
DJ Mr. E Show
Miss Maricopa/Miss Pinal County
Petting zoo
Pony carousel
Arizona Rattlers players
Sidewinder Dancers and Stryker, the mascot
For more information and detailed information on all specials for the celebration, visit: http://www.UltraStarAkChin.com
About UltraStar Multi-tainment Center at Ak-Chin Circle:
The UltraStar Multi-tainment Center at Ak-Chin Circle, an enterprise of the Ak-Chin Indian Community, is operated by California-based UltraStar Cinemas. UltraStar Cinemas is recognized for pioneering the digital age of cinema. They are the first theater group in the world to be fully equipped with Pure Digital Cinema® powered by DLP Cinema® technology in all of their locations. The UltraStar Multi-tainment Center at Ak-Chin Circle features "One stop, non-stop entertainment." Guests experience adventure, competition, entertainment and relaxation all conveniently located under one roof. The Multi-tainment Center features state-of-the-art digital theaters, bowling, dining, sports lounge, live entertainment, laser tag and arcade gaming as well as corporate and private event facilities. It is located at 16000 Maricopa Rd., Maricopa, AZ. http://www.ultrastarakchin.com
About Ak-Chin Indian Community:
The Ak-Chin Indian Community is nestled into the Santa Cruz Valley of Southern Arizona. The Community lies 35 miles south of Phoenix in the northwestern part of Pinal County. Ak-Chin is an O'odham word translated to mean "mouth of the wash" or "place where the wash loses itself in the sand or ground." Ak-Chin has an enrollment of more than 1,022 tribal members and a land base of just over 22,000 acres. The Ak-Chin Indian Community has a variety of business enterprises including Harrah's Ak-Chin Casino, Ak-Chin Southern Dunes Golf Club, Vekol Market, UltraStar Multi-tainment Center at Ak-Chin Circle and Santa Cruz Commerce Center. For more information, visit http://www.ak-chin.nsn.us.
Media contact:
Christine Holtz
Phoenix Marketing Associates
602-282-0202
###