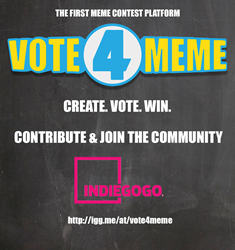 On the surface, Vote4Meme is an entertainment platform to make you laugh, but at its core, we want it to build a strong community..."
Columbus, Ohio (PRWEB) November 05, 2015
Memes are elements of culture that come in the form of humorous images, videos, pieces of text, and more, and spread from person to person within that culture. In today's modern era of information technology, memes are a viral phenomenon occurring mostly on social media networks like Facebook, Twitter and Instagram, with thousands of them circulating on these networks.
Vote4Meme is a new concept developed specifically for meme and pop culture enthusiasts, and intended to inspire creativity and offer absolutely humorous entertainment for its users. Created by a team based out of Columbus, Ohio, Vote4Meme will be running weekly contests based on challenges ranging from the most absurd animal videos to funny sports pictures. Users can submit their own videos, photos, animations and other such types of content, and promote them via social media networks such as Facebook, Twitter, and the likes.
Once entries are submitted, other users can come back and vote for their favorites. At the end of the contest, the meme with the most votes wins. Prizes range from gift cards to cash prizes, gadgets, gaming consoles and more, all sponsored by famous people, brands, or events.
Sasha Saberi, founder of Vote4Meme, states: "I always wanted to create a platform to inspire creativity, and to bring a community with shared interests together. I came up with this concept after a popular sports figure offered money on Twitter to whomever made the best meme of him tripping and falling on TV. On the surface, Vote4Meme is an entertainment platform to make you laugh, but at its core, we want it to build a strong community and encourage involvement."
In order to raise additional capital for the Vote4Meme concept, Saberi and co-founder, Jared Rigsby, have already launched an Indiegogo crowdfunding campaign on beginning November 2nd. Several perks have been offered to pique meme lovers' interest and encourage funding of the project. These include perks ranging from exclusive merchandise to one-of-a-kind personal experiences, as well as several advertising packages. All contribution packages range from $1 to $20,000.
The biggest perk, suggestively labeled "Shame the Founder," will have Vote4Meme founder Sasha Saberi filmed while he reluctantly has a full body wax for $20,000. The film will be available online, or in the backer's personal collection.
"I am very passionate and excited about this project and can't wait for its release before the holidays," states Saberi. Vote4Meme's Indiegogo campaign is now live. Anyone interested in supporting the project can head off to the crowd funding campaign at http://www.vote4meme.com and pledge a chosen amount.
SOURCE Vote4Meme, LLC