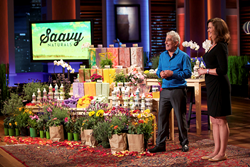 This is the final step of starting something new and amazing. I hope this platform can helps us continue to inspire and bring abundances and joy to people's lives with the incredible company we are building.
Los Angeles, California (PRWEB) November 03, 2015
Saavy Naturals, a line of exquisite yet edible body care products, will be making its Primetime TV debut on Friday, November 6, 2015 at 9:00PM PST on ABC Television Network's hit show "Shark Tank". Co-founders, Debra and Hugo Saavedra, will dare to enter the tank to pitch the tough, self-made millionaire/billionaire tycoons to invest in their product!
"We are very proud of each and every one of our handcrafted soaps, creams, scrubs, and our entire range of exquisite body care products," Debra said. "We have spent years perfecting them, actually more like a lifetime or two. Going on 'Shark Tank' was definitely one of the most challenging things we've ever done. I'm so thrilled to have this opportunity!"
Debra and Hugo were self-made restaurateurs, whose love for food turned into experimentation with skin care. The couple realized that using 100% natural, food-grade ingredients in body care products had yet to be done, and sudden interest grew in feeding the skin, which is the largest organ on the body.
"We are deeply passionate about what we do," said Hugo. "Our commitment is making the safest, most luxurious, sensual, and high quality body care products on the planet. Pretty tall order, right? We believe we deliver. This is the final step of starting something new and amazing. I hope this platform can help us continue to inspire and bring abundances and joy to people's lives with the incredible company we are building."
Saavy Naturals features a full line of handcrafted soaps, creams and scrubs made for all genders, ages and skin types. Each product is crafted like a work of art; carefully selected pure essential oils and plant extracts for the unique scents, and blended fine quality oils and butters that deeply nourish the body.
Tune into Shark Tank this Friday to see whether or not a deal is struck with one of the sharks to feed America's senses one body care product at a time!
Purchase your favorite body care products by visiting http://www.saavynaturals.com or heading to Saavy Naturals' debut retail store in Huntington Beach at Pacific City during their Grand Opening on Thursday, November 5th beginning at 10:30AM PST!
ABOUT SAAVY NATURALS
Saavy Naturals was created by lifelong foodies Debra and Hugo Saavedra. They have owned and operated restaurants, been personal chefs and created menus for other privately owned restaurants. The Saavedras also grew and introduced exotic edible flowers and baby greens, which were mainstays at many 5-star restaurants in Southern California. After years of cooking and growing herbs and edible flowers, they started experimenting and eventually turned them into luxurious soaps, body creams, and body scrubs. Every product in the line is 100% natural, and made from 100% food-grade ingredients. The entire line is also vegan, gluten-free, soy-free, non-GMO, and palm-free. They began selling products by offering some of their new creations at a local farmer's market. Products are now available for purchase online at SaavyNaturals.com as well as Whole Foods Markets, Bristol Farms and ULTA Beauty. Every soap, body cream and body scrub comes in a variety of delicious scents such as Tahitian Vanilla & Kukui, Bulgarian Rose, Plumeria Violet, Jasmine, Mango Papaya, Patchouli Rose, Yuzu & Meyer Lemon, Green Tea & Lime, Lavender Chamomile and Oatmeal Almond.
ABOUT SHARK TANK
The Sharks of "Shark Tank" -- Mark Cuban, Barbara Corcoran, Daymond John, Kevin O' Leary, Lori Greiner and Robert Herjavec-- give budding entrepreneurs the chance to make their dreams come true and potentially secure business deals that could make them millionaires. The entrepreneurs who dare to enter the Tank must try to convince the Sharks to part with their own hard-earned cash and give them the funding they desperately need to turn their dreams into million dollar realities. But the Sharks have a goal, too -- to get a return on their investment and own a piece of the next big business idea. For more information on "Shark Tank," visit ABC.com/sharktank.
For media requests, or to schedule an interview with Saavy Naturals co-founders Hugo and Debra, please contact Kyrstin Riley at Melrose PR, kyrstin(at)melrosepr(dot)com, (310) 260-7901.