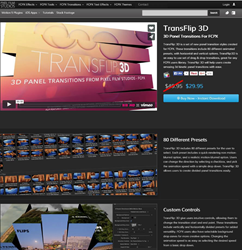 TransFlip: 3D allows users to create divided-panel transitions easily.
Aliso Viejo, CA (PRWEB) November 06, 2015
Trans Flip 3D is a set of new panel transition styles created for FCPX. These transitions include 80 different animated presets, with horizontal and vertical options. Trans Flip 3D is an easy to use set of drag & drop transitions, great for any FCPX user's library.TransFlip 3D will help users create amazing 3D kinetic panel transitions with ease.
Trans Flip 3D includes 80 different presets for the user to select. Each preset includes a quick-rendering non motion-blurred option, and a realistic motion-blurred option. Users can change the direction by selecting a check-box, and pick the animation speed with a simple drop down.
Trans Flip 3D gives users intuitive controls, allowing them to change the transition start and end point. These transitions include vertically and horizontally divided presets for added versatility. FCPX users also have selectable background drop-zones for more creative options. Changing the animation speed is as easy as selecting the desired speed from a basic drop down.
This effect is a drag & drop transition tool for Final Cut Pro X. Users simply select the desired preset, and apply it between clips. The transition can be dragged out to the appropriate length for correct timing. All the included animation controls help the user adjust the movement for the desired effect.
TransFlip 3D is a new transition pack designed for FCPX. TransFlip 3D works like any other transition, and can be applied and modified in just seconds. These transitions are easy to use and include intuitive controls, giving editors access to professional looks with time-saving techniques.
"We intend to satisfy the needs of fans of Final Cut Pro X around the world and get them what they need," said Christina Austin - CEO of Pixel Film Studios.
Established in 2006, Aliso Viejo, California-based Pixel Film Studios is an innovative developer of visual effects tools for the post-production and broadcast community. Their products are integrated with popular non-linear editing and compositing products from Apple FCPX. Apple, the Apple logo, Mac OS X, and Macintosh are registered trademarks of Apple Inc. in the U.S. and/or other countries. All other trademarks and trade names are the property of their respective owners.