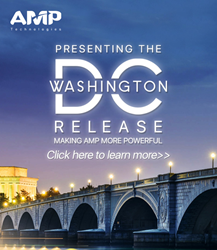 Let AMP make you remarkable with a completely new way to maximize revenues and lower operational costs.
Silicon Valley, CA (PRWEB) November 03, 2015
Let AMP make you remarkable with a completely new way to maximize revenues and lower operational costs. Now teams across all roles of your orgnaization can seamlessly manage key information quickly, driving efficient behaviors to leverage valuable insights. With variance and pipeline alerting, an advanced digitized OCR process, and a centralized digital payment system - AMP delivers a competitive advantage to their Users.
AMP has created the easiest, fastest, and most lucrative asset management platform in the marketplace. "We have looked at how Commercial Real Estate companies operate and identified that there are efficiencies to be gained. With that in mind we are building features that will notify your operations teams quickly and have them respond in a timely manner," explains AMP CTO Arvind Sathyamoorthy.
SEE THE LATEST TECHNOLOGY IN ACTION: CLICK HERE
Partnering with best-in-class expert CardX for seamless payment processing is one of the recognized marks in the D.C. Release that will add tremendous value. The NEW Payment Processor activates the ability to collect payments so property managers don't have to go to a different system. CardX provides world-first card acceptance solutions to institutions and businesses.
"At present, only 3% of payments in property management are made by card, because the merchant fees charged to managers and owners are often prohibitive. Partnering with AMP Technologies, we're launching an integrated solution that gives property managers the convenience and collectability of credit card acceptance at zero cost," said Jonathan Razi, CardX co-founder. "AMP's platform equips managers and owners with a powerful suite of billing and finance tools to strengthen their revenues, so our Zero-Cost Credit solution is a great fit."
EXPERINCE THE BEST IN THE INDUSTRY: CLICK HERE
Another addition to these updates is the new Variance Alerting capabilities. Easily set a threshold and receive a notification when the difference between actuals and budgets reaches the pre-set variance threshold. This allows Users to know what is happening with each asset faster so that smarter decisions can be made at an accelerated rate.
In commercial real estate, it's all about pace. The Pipeline Alerting feature will notify users when a prospect moves from one stage to the next so each movement in the pipeline will be known in real time. This will result in converting prospects to tenants faster, and making the leasing team more efficient.
Along with all the noted additions above, AMP now has an OCR Process on the platform. This easily turns scanned documents into searchable documents so that it is possible to filter by keyword, and then turn these documents into a usable PDF file. No more searching for important documents, now they are all at your finger-tips.
The DC Release combines with the best leasing CRM, SPARK, and the Miami Release to continue leading the technology transformation in the commercial real estate industry. AMP is on a mission to make you remarkable. Wait until you see what's next!
ABOUT AMP TECHNOLOGIES – CLICK HERE
Headquartered in Mountain View, California, AMP Technologies provides a suite of products and services for commercial real estate asset management. The AMP Technologies Platform is a powerful, yet highly intuitive platform to monitor and manage individual properties and large portfolios. Its products are built on best-of- breed cloud technology and are designed for the modern enterprise to provide sophisticated business intelligence, collaboration and management tools. With a comprehensive, yet highly intuitive, platform for monitoring and managing individual properties to entire portfolios, AMP provides the key tools needed for every level of management for effective analysis and decision-making.
ABOUT CARDX – CLICK HERE
Founded in August 2013, CardX is a technology provider of innovative service fee and surcharge solutions. CardX creates value by reducing transaction costs. Different cards have different costs; CardX's patent-pending technology calculates in real time the cost to accept a given card, creating incentives for consumers to make lower-cost payment choices and reducing the fees paid by merchants. CardX licenses its solutions to sales partners such as software companies and merchant service providers. CardX solutions serve government entities, schools, and businesses of all kinds. For more information, please visit CardX.com.
Zero-Cost Credit is the first solution that is 100% compliant with the new surcharge rules. CardX's patent-pending technology allows merchants to pass on the full cost of the transaction when consumers choose credit cards. With Zero-Cost Credit, merchants accept credit cards for 0%, paying only for the debit cards they accept.