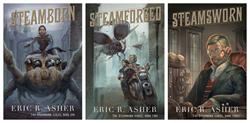 He is an amazing storyteller that has that unique ability to teleport his readers to the time and place he is writing about. He creates believable characters even if they are creatures that, shall we say, do not normally appear in nature.
Charleston, SC (PRWEB) November 06, 2015
This Young Adult steampunk adventure book follows Jacob, a tinker's apprentice and sometime thief, who has lived his entire life in the mountain city of Ancora, protected by the city walls. These towering barriers keep the Deadlands creatures at bay, but the monsters move higher into the peaks every year. More and more, they breach the defenses of the Lowlands while the Highlands rest easy.
A swarm overruns the walls and wreaks utter devastation on the Lowlands. Charles, the old tinker, suspects the attack may not be natural. With help from Jacob's closest friend, Alice, and Samuel, one of the city's elite spider knights, Jacob and Charles will uncover a terrible darkness at the heart of their city.
Steamborn will release on all other platforms December 1st.
Steamforged, book two, will release January 19th, and Steamsworn, book three, will release February 2nd. Both will be iBooks exclusives before releasing on all platforms shortly afterward.
Steampunk is a subgenre of science fiction, and sometimes fantasy, that incorporates technology and aesthetic designs inspired by 19th-century industrial steam-powered machinery.
Eric R. Asher is a former bookseller, guitarist, and comic seller currently living in Saint Louis, Missouri. A lifelong enthusiast of books, music, toys, and games, he discovered a love for the written word after being dragged to the library by his parents at a young age. When he is not writing, you can usually find him reading, gaming, or buried beneath a small avalanche of Transformers.