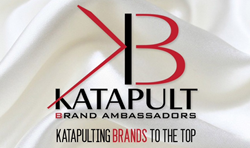 "We are seeking energetic people with sales experience who are able to close sales. If you are a motivated, positive people person who enjoys seeing others succeed, this is the perfect opportunity for you!" Katapult Enterprises
New York, NY (PRWEB) November 02, 2015
Monday afternoon Katapult Enterprises launched a new opportunity. The company is now hiring "Katapult Brand Ambassadors", offering high commission pay ranging from $400 to $20k per sale, plus bonuses and incentives.
Known for their high-end branding services, confidential life coaching and International Life Coach Certification program, Katapult specifies on their website, "We are seeking energetic people with sales experience who are able to close sales. If you are a motivated, positive people person who enjoys seeing others succeed, this is the perfect opportunity for you! If you already have an established network that you market to, that's even better." and has an application form to apply right on the new webpage KatapultEnt.com/KBA
With a crisp new logo and appealing image, this opportunity is bound to attract business-minded individuals in droves. Katapult Enterprises reputation is stellar, all of their services breathing an air of excellence.
On the technical side of things, Katapult Enterprises has taken years to put together their "dream team" of over 25 experts in everything from logo design to social media marketing to web design, SEO, app development, sales funnels and more.
Katapult recently gave their signature "Get Katapulted" Branding Packages a fresh look as well, presenting new, sharper graphics and introducing new package names such as "Flight" and "Prestige". With a determination to stay on the cutting-edge, it isn't uncommon for this company to switch things up.
To learn more on how to become a part of this company, whether as a client or a Katapult Brand Ambassador, visit KatapultEnt.com