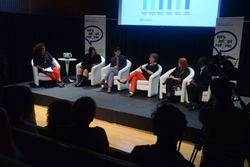 New York, NY (PRWEB) November 05, 2015
Today, the Donaldson Adoption Institute (DAI) a national research, education and advocacy organization released the results of a large-scale public opinion survey on Americans' understanding of adoption experiences, practices and policies as part of its "Let's Adopt Reform" initiative. 
The quantitative survey revealed that most Americans rank adoption reform near the top of social issues to be prioritized. Highlights include:

More national standards are needed: Over 80% support rigorous national criteria for evaluating perspective adoptive parents.
Access to original birth certificates is essential: Nearly 70% support an adopted person's right to access their original birth certificate.
Blatant and reckless activities such as "re-homing" (unregulated child custody transfer) must be stopped: 85% support an explicit ban on "re-homing."
There is support for funding of essential pre- and post adoption services: At least 52% support increased public funding for pre-and post adoption services.
Equality in the adoption process is important: 73% support nondiscrimination in adoption on the basis of race, marital status, sexual orientation, ethnicity and religion.
Market forces impact adoption: 77% agree that money and privilege distort adoption. 
Although adoption may seem like a small sliver of the population, a majority of Americans have an indirect connection to adoption with over 60% having friends or family members who have been impacted by adoption; they know someone who has adopted a child or have a friend or family member who is an adopted person.  At the same time, very few people truly understand adoption and perceptions about adoption often remain mysterious and misunderstood making it difficult to implement necessary policies to strengthen families. 
"It's encouraging to see that Americans recognize the importance and universality of these issues because for far too long, adoption has been seen as 'niche' and widespread reform has been slow," said April Dinwoodie, Chief Executive of DAI. "This new study clearly shows that Americans are interested in seeing changes in adoption policies and practices. Raising awareness and educating the wider public, political influencers and even our own community will be necessary to encourage needed changes in adoption."
This research was fielded by a new, nonprofit partner Research in Kind™, founded by Mark Truss, Global Head of Brand Intelligence at J. Walter Thompson. "Public Opinion Research is the first step in reframing people's understanding and creating behavior change," said Mark Truss, Global Head of Brand Intelligence at J. Walter Thompson. "The Donaldson Adoption Institute is making an important contribution towards creating the change our culture needs."
These findings helped to frame DAI's first "Let's Adopt Reform" Town Hall held on Wednesday, November 4th at Bank Street College in New York City. To view a recording of the live-stream click here http://www.letsadoptreform.org/national-tour/new-york-city/.
About The Donaldson Adoption Institute
Since 1996, The Donaldson Adoption Institute (DAI) has worked to improve the lives of children and families across our country and around the world through research, education and advocacy that has led to better laws, policies and practices. We engage all members of the adoption and foster care adoption communities, including the professionals that serve them.  In our twentieth year, DAI is committed to reframing the conversations and changing perceptions, inspiriting solidarity and advocating for change to ensure the strength of all families.
About "Let's Adopt Reform"
"Let's Adopt Reform" is a new initiative from The Donaldson Adoption Institute (DAI) that aims to ignite a national conversation about adoption in the 21st Century in order encourage needed changes and strengthen families. Key elements include; public opinion research, national town hall tour, an online gallery where members of the adoption community can add their voices to the Let's Adopt Reform conversation by sharing their life changing experiences and a landmark report that will combine DAI's decades of academic research with modern public opinion research and first-hand experiences to define the core perception, policy and behavioral shifts that are needed to put strong families at the center of adoption and foster care adoption practices. Tour stops include: New York City 11/4/15, Dallas, TX 01/13/16, San Francisco, CA 3/04/16 and Chicago on 4/12/16.