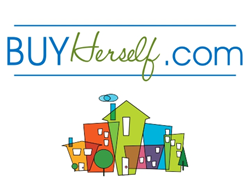 Ottawa, Ontario, Canada (PRWEB) November 03, 2015
BoruckSowah Inc. announces the launch of the BuyHerself seminar series, tailored to the needs of the large and growing demographic of single women in the North American housing market. The initiative addresses the 20+% of the housing market made up of single women.
"A steady increase in single women home buyers has been going on for years," says CEO Susan Sowah, who co-founded the initiative with fellow real estate agent and friend of 30 years, Donna Boruck. "And yet, single women often feel at a disadvantage negotiating with financial institutions or in sales situations. We launched this initiative based on our own experience as single women home owners and in response to ongoing research that women feel markedly less confidence and support in their dealings with financial institutions and with large ticket item purchasing. The BuyHerself seminars are an excellent place to educate women, demystify how money and financial institutions work relative to home buying and to build the tools and get information to narrow those gaps, while offering necessary supports."
Successful BuyHerself pilot seminars launched in both Canada and the USA last spring, garnering heavy attendance and interest from women from several demographics and earning press and media attention.
One attendee, Jane Smith (not her real name), a professional in her mid-20s who recently broke up with her boyfriend, was initially planning on buying a house with him until the relationship fell apart. Attending a BuyHerself First Time Home Buying seminar, she says, was a critical step towards making the decision to leave the relationship and gave her a safe and relaxed space to ask questions.
"I had a lot of questions and was able to not feel silly asking them, which was great. Any time I talked to my ex, he'd say, 'Oh it's this and this' but I didn't truly understand his explanation," she says.
The seminar not only provided important information, but gave her the confidence to buy her own home. "I started seeing the available options and that I could do it by myself."
Co-founder and COO, Donna Boruck adds, "Susan and I are personally invested in the message we deliver, because we have both lived it at one time as single mothers."
In addition to FIRST TIME HOME BUYING, the seminar series encompasses a module on SELLING AND BUYING, which addresses the needs of women who are separating or divorcing, including critical legal information on what constitutes marital assets, legal rights and mediation as an alternative to high cost family lawyers. Challenges particular to ageing Baby Boomer demographic and beyond, are covered in a DOWNSIZING seminar module.
"We are in the process of packaging our program for license. Our goal is to meet and recruit like-minded affiliate REALTORS® across North America, thereby supporting the needs of single women home buyers and sellers as widely as possible." says Boruck.
The company will begin active marketing of the BuyHerself license program in November 2015.
About BuyHerself™
BuyHerself offers a comprehensive program of free seminars designed to address the needs of women home owners, on their own. BuyHerself seminars are a relaxed and informative way for women to learn about all the stages of home ownership.
http://www.buyherself.com
Toll free: 1-844-437-4377