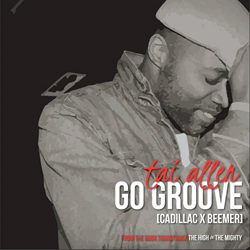 'Go Groove' is about what it means to fall in love during a chaotic time - and the highs and lows that come with it.
Brooklyn, NY (PRWEB) November 03, 2015
Soul artist Tai Allen announced today the release of his new single, "Go Groove (Cadillac x Beemer)", which will appear on "The High x The Mighty", the soundtrack inspired by and scored for his first full-length poetry book.
Allen, who is an award-winning poet and creative, has a penchant for connecting and intersecting musical genres -- and "Go Groove" is no exception. Produced by Suede Jenkins, the mid-tempo love song features the boom-bap of hip-hop, the melody of classic 70's soul music and the lyrical approach of blues.
"'Go Groove' is about what it means to fall in love during a chaotic time - and the highs and lows that come with it," said Allen. "It causes you to consider all the things that can happen to interrupt love and friendships. It also shows how this love thing is beyond complete understanding, but is completely understood."
The drama of love is also what led him to the single's accompanying visuals, which feature a mashup of French animator Cube's minimalistic short, "Perils Of Love."
"I was already aware of Cube's work, but I found the short while enjoying a series of foreign films. It immediately grabbed me in how simple and complex it was in conveying the journey of, and to, love."
Watch the video for "Go Groove (Cadillac x Beemer)" here »
http://bit.ly/gogroovevideo
"Go Groove" is part of a larger, groundbreaking body of work, featuring Allen's first full-length book of poetry and an accompanying soundtrack inspired and scored for the book. The soundtrack, "The High x The Mighty", and the book, "The High x The Low", are both set for release in February 2016. From matters of the heart to community organizing, the works use art to create larger discussions on how to accept, welcome, or even, survive change.
For more information, visit http://www.taiallen.com.
# # #
About Tai Allen
Tai Allen is a respected creative who excels in multiple disciplines. The Brooklyn-based creative director is a poet who sings over music he has produced. His poetry has been published in noted tomes (Bomb, Killens Reviews and African Voices) and his music has been heralded by such publications as SoulTracks, CentricTV and Uptown Magazine. He has headlined such venues as BAMcafé Live in Brooklyn, Nighttown in Rotterdam and the American Jazz Museum's Blue Room in Kansas City, as well as co-hosted the main stages for Art of Cool Festival in Durham.
In 2010, Allen's album Easy Readin' was awarded "Album of The Year" by the National Poetry Awards. He is a member of the National Black Writers Conference Steering Committee and has also served as the Conference's Poetry Cafe host. Allen is also creative director for Arts+Crafts, where he curates the annual Tap+Cork Brooklyn Beer & Wine Fest, and creates performance opportunities for emerging artists, deejays and poets. He has also curated and hosted Brooklyn's "Restoration Rocks" block party three times within the past five years.