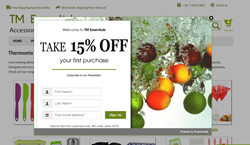 With ShopSocially's Get-an-Email app we not only get to expand our customer base, we get to keep our customers up-to-date with the latest accessories in our range. - Debbie Wuoti, Director at TM Essentials.
SANTA CLARA, CA (PRWEB) November 04, 2015
ShopSocially's Get-an-Email app helped a leading online retailer of high quality kitchen utensils TM Essentials convert its site visitors into email subscribers. By embedding the Get-an-Email app on its site, TM Essentials has converted its website visitors into email subscribers. These email subscribers converted at an impressive rate of 32.53%.
"We want our customers to get the best from their Thermomix with our range of kitchen accessories. To this end, we are always seeking for and trying out new stock. Now, with ShopSocially's Get-an-Email app we not only get to expand our customer base, we get to keep our customers up-to-date with the latest accessories in our range," commented, Debbie Wuoti, Director at TM Essentials.
TM Essentials recognised that emails are still one of the most effective online marketing channels, and wanted to take advantage of this. Hence they took a decision to deploy ShopSocially's Get-an-Email app. ShopSocially's Get-an-Email app provides a complete customizable user-interface to blend with the default user-experience of the eCommerce website. The effectiveness of the app increases with the advanced targeting parameters like website session history, geo-location, access devices, etc. ShopSocially also provides a robust performance tracking dashboard, through which the email acquisition programs can be monitored and improved to acquire better results. This helped TM Essentials design a highly effective email acquisition program that resulted in rapid addition of email subscribers.
Visitors to the TM Essentials website are encouraged to become email subscribers by the customized incentive offered – 15 % off their first purchase if they sign up to receive the newsletter. This in turn has the benefit of converting new subscribers into loyal customers.This approach works best to boost the conversion rate by 5-7 times because visitors feel they've 'earned' the incentive. Typically the conversion rate is 10-15% but TM Essentials has more than doubled this rate to achieve an amazing 32.53%.
In addition, TM Essentials has also strategically embedded ShopSocially's Refer-a-Friend app. Refer-a-Friend app encourages visitors to refer their friends and family to visit the site. With friend referrals being the third most important driver of traffic after SEO and SEM, TM Essentials chose to take advantage of the benefits provided by the Refer-a-Friend app.These include: 2-5 click backs for every referral sent; up to 10-15% increase in site traffic and sales; and a score of new email subscribers, Facebook fans and Twitter followers. The ShopSocially platform works to leverage customer loyalty and jump-start sales because all its apps are mobile-friendly and can be customized to suit each client's specific site needs. The A/B testing, auto-scheduling and ROI reports that ShopSocially provides secures its position as the number one social, referral, and loyalty platform for marketers.
"We are proud that TM Essentials has achieved the impressive conversion rate of 32.53% using our Get-an-Email app which forms part of our Viral Email Acquisition program," commented Samir Palnitkar, President of ShopSocially. "It is ShopSocially's goal to empower our clients by helping them to boost their sales figures, and to improve their social media engagement and word-of-mouth branding."
About TM Essentials
Based on the Sunshine Coast in Australia, TM Essentials sources a wide range of high quality kitchen utensils that compliment and improve users Thermomix cooking experience. The TM Essentials range includes cleaning brushes, silicone spatulas, non-stick silicone cooking mats, various silicone cake molds, reusable food pouches, a Thermomix travel bag and more.
http://www.tm-essentials.com.au/
About ShopSocially
ShopSocially is a premium, SaaS-based, social, referral and loyalty marketing platform for businesses. Leading brands like Crabtree & Evelyn, Dressbarn, Zipcar, Ulta, Beretta etc. are using ShopSocially platform to enable referral marketing, visual commerce, customer loyalty, social login, social gamification and other such programs on their site.
ShopSocially has been consistently driving word-of-mouth promotions via social for 1000s of brands and delivering positive social ROI for their social media efforts.
ShopSocially has won several awards and has also been featured by Facebook in a Social Commerce case study. Launched in Oct 2010, ShopSocially is a privately held company in Mountain View, CA. For contact information, please visit http://shopsocially.com/platform/request-a-demo.html.