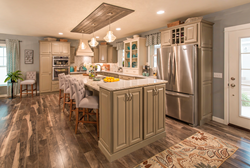 "Jerry Rouleau was a great advocate for the systems-built and modular housing industries and Ritz-Craft is honored to receive awards which honor his memory." - Paul D. John, President/CEO
Mifflinburg, Pennsylvania (PRWEB) November 09, 2015
Ritz-Craft was honored on November 6, during the BSC's Building Systems Showcase, the only national conference and educational event focused exclusively on the systems-built housing industry.
Ritz-Craft received the following 2016 Jerry Rouleau Awards for Excellence in Home Design:
Winner: 2,001 – 3,000 square feet – Summer Place Two Story
Winner: Outstanding Model/Sales Center – The Oswego II
In addition to excellence in home design, Ritz-Craft also earned an award for Excellence in Marketing:
Entry of Distinction: Builder Tri-fold Folder
"Winners of this year's awards did a phenomenal job of showcasing the best marketing and home designs in the building systems industry," said BSC chairman, Dan Mitchell. "Systems-built technology is the building of the future, and these awards represent what is possible for potential systems-built home owners."
The annual Jerry Rouleau Awards for Excellence are judged by an independent panel of industry experts, and companies like Ritz-Craft were praised for the quality of their submittals.
"Jerry Rouleau was a great advocate for the systems-built and modular housing industries and Ritz-Craft is honored to receive awards which honor his memory," states Paul D. John, President/CEO and co-owner of Ritz-Craft Custom Homes. "Ritz-Craft is constantly working to create value-packed home designs and marketing tools, and I am extremely proud of our entire team for their award-winning efforts. Thank you to the NAHB and BSC for this recognition of our hard work. We especially thank the members of our builder network who have made these awards possible."
Ritz-Craft also earned several of the 2015 Jerry Rouleau Awards, 2014 Jerry Rouleau Awards and 2013 Jerry Rouleau Awards.
XXX
ABOUT RITZ-CRAFT: Ritz-Craft is a privately held, vertically integrated company headquartered in Mifflinburg, PA. With its roots in residential home building dating back to 1954, Ritz-Craft Custom Homes has risen to be an industry leader in the system-built housing industry. The company has additional production facilities in Michigan and North Carolina. For more information about Ritz-Craft homes visit http://www.ritz-craft.com or call 800-326-9836.
ABOUT THE BSC: The Building Systems Councils of the National Association of Home Builders is made up of manufacturer, builder, and associate members who advocate building with concrete, log, modular, or panelized systems. Systems-built homes are constructed to the same code standards and reflect the same, and often enhanced, quality levels as any site-built construction. The advantage of systems-building is it's done in a fraction of the time, with a fraction of the waste, which can significantly reduce costs. Many systems-built homes also are inherently environmentally friendly adding a "green" label to the finished home.
ABOUT NAHB: The National Association of Home Builders is a Washington-based trade association representing more than 140,000 members involved in home building, remodeling, multifamily construction, property management, subcontracting, design, housing finance, building product manufacturing and other aspects of residential and light commercial construction. NAHB is affiliated with 800 state and local home builders associations around the country. NAHB's builder members will construct about 80 percent of the new housing units projected for this year.