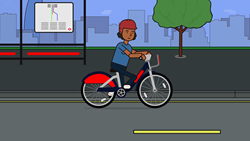 Scorch London created a bold and striking animation.
(PRWEB UK) 5 November 2015
Public Health England London and the Greater London Authority are asking Londoners what pledges they can make to live a healthier lifestyle, with the release of the animated film to accompany the Better Health for London: One Year On report. The report celebrates the achievements that have been made in improving the capital's health since the London Health Commission published its recommendations one year ago.
With London currently sitting 7th in the table of healthiest major global cities, behind the likes of Hong Kong, Tokyo, Madrid and Paris, creative agency Scorch London has crafted a bold and striking animation to inspire collective action from Londoners, health and care authorities alike, all of whom will be vital in addressing the city's unique health and care challenges.
Whittling down a complex matrix of over sixty health recommendations, current statistics and the key ambitions for 2020 developed by Boris Johnson and the London Health Commission, copywriters at Scorch London developed a voice over script that addresses Londoners directly and hits them between the eyes with the surprising state of Londoners' health. Honing in on topics including the health of children, smoking and mental health, the bold, colourful graphical style and friendly copy form a stark contrast to the shocking statistics.
Set against the iconic London skyline, the animated characters guide the viewer through the current state of Londoners' health and the key ambitions for the future, touching on a wide range of health-related information including childhood obesity figures, physical activity, health in the workplace and overall mental well-being in the city.
Sian Finnis, the producer at Scorch London responsible for delivering the project said "It's been a fascinating journey to work on such an interesting and important campaign, with a client who has been refreshingly open to producing a truly original piece of animation work. The video certainly works a lot harder than a traditional film to engage Londoners fully with the campaign".
Created and produced by the in-house motion design studio at the Soho based creative agency, and released across social channels, the end copy directs viewers towards the http://www.gethealthy.london microsite to make a pledge and find out more about the report.