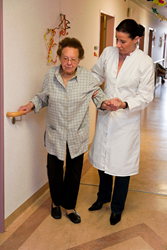 "Never before have we seen nursing facilities make such vast improvements in this short amount of time." - Loretta Kaes, director of quality and clinical services, Health Care Association of New Jersey
Morristown, NJ (PRWEB) November 04, 2015
A collaboration of hospitals, doctors and skilled nursing facilities (SNFs) has resulted in improvements in the quality of subacute patient care, and reductions in costs, length of stay and hospital readmissions according to recent findings.
This marks major progress in meeting and exceeding standards of patient care for Medicare beneficiaries in New Jersey, a state that has traditionally ranked low for key performance measures among SNFs.
The Atlantic Accountable Care Organization (AACO) and Optimus Healthcare Partners launched the initiative in 2014. Through this new program, areas of subacute patient care in need of improvement were identified. The ACOs worked together with SNF leadership to address solutions with a goal of creating a high-performing network of SNFs.
Within the first six months of the program, there was a 27 percent improvement in mean performance across all measures, marking meaningful changes in quality of care. For the first time, the AACO also saw nursing home cost savings for subacute care patients.
"The findings reported by the Atlantic ACO, Optimus and skilled nursing facilities are remarkable. Never before have we seen nursing facilities make such vast improvements in this short amount of time," said Loretta Kaes, director of quality and clinical services, Health Care Association of New Jersey. "The collaborative, inclusive approach has broken down silos and opened communications between the hospitals and facilities. Needs on both sides became transparent, helping to refine solutions and build more trust. This type of partnership has proven effective to benefit Medicare beneficiaries."
Improvements in Quality of Subacute Patient Care:
AACO and Optimus identified a set of quality measures for the SNFs to target, including those based on criteria from the Centers for Medicare & Medicaid Services (CMS), such as pressure ulcers, influenza immunization, pneumococcal (pneumonia) vaccination, self-reported moderate-severe pain, and anti-psychotic medication use.
Prior to the ACOs' collaboration with 61 SNFs, only 20 percent of the clinical quality scores met or exceeded the state average. Now, 100 percent of clinical quality scores exceed the state mean.

Length of Stay. In the high performing network, the average length of stay is now 21.2 days compared to 25.3 days for those who were not in the high performing network. This difference, driven by improvement to SNF processes and protocols, marks a significant change, and makes these facilities more competitive in a marketplace that will continually demand more cost effective care.
Lowered hospital readmissions. The nursing facilities are also doing better with re-hospitalization rates. The NJ state average for re-hospitalization is 16.8 percent. The high performers in the program have achieved 14.8 percent. At the onset of the program, some facilities were as high as 40 percent. Short-stay rehospitalization data were provided by PointRight via its industry-standard PointRight® Pro 30™ Rehospitalization measure.
Reductions in Cost. Cost per member (Medicare beneficiary) was reduced by 1.8 percent
"Historically, New Jersey's health care spending is higher than the national average. This is the result of our geography, resources and how health care is practiced here. Therefore, any impact – even a small movement of the needle – is very meaningful," explained Poonam Alaigh, M.D., corporate consultant to the Atlantic ACO. "These results are proof that when you remove silos and work collaboratively across the health care continuum reduced costs are possible, while improving the quality of care."
Looking to the Future:
The collaborative model has already attracted more nursing facilities to want to participate and become part of the ACOs' high performing network. Currently, there are 89 facilities in 10 counties working with AACO and Optimus (this initiative evaluated the first 61 SNFs to report results).
"Our country is facing a steady increase of those who will likely need subacute care, as 10,000 baby boomers will turn 65 every day for the next 20 years," said Denise Ratcliffe, Strategic Advisor at the Christian Health Care Center, part of the high performing network, headquartered in Wyckoff, NJ with a campus location in Wayne. "In addition to continually building on the improvements made to date, we also strive for greater family and patient engagement, which is a critical component to measure the success of skilled nursing facilities."
Recognizing that new approaches in health care coordination and delivery are necessary to find solutions to growing and emerging challenges, AACO and Optimus chose a collaborative approach. Whereas other ACOs might only work with high-volume SNFs in their referral network, AACO and Optimus invited all SNFs to the table.
"Collaborating with skilled nursing facilities has resulted in a remarkably rapid development of a high performing network, which will improve clinical operations and overall quality of care for our patients," said John F. Vigorita, M.D., president & CEO, Optimus Health Partners. "Enhanced communications and coordination will sustain improvements in patient outcomes, which is our primary goal."
Methodology:
The program was specifically designed for Medicare beneficiaries receiving subacute care at skilled nursing facilities – meaning, the patients were not long term residents. Subacute care is a level of care needed by a patient who does not require hospital acute care, but who requires more intensive skilled nursing care in a skilled nursing facility.
The ACOs worked with medical directors and leadership from each of the 61 participating SNFs to review their performance and collaborate on processes and protocols to improve areas needing attention. SNF directors then worked with clinical staff to implement education and provided tools to help staff better manage patient conditions during their stay at the facility, as well as transfers to home, including medication adherence. SNFs were required to report quarterly results beginning in Q1 2014.
For more information or to speak with a hospital spokesperson, please contact Rob Seman at 973-660-3145 or Robert(dot)seman(at)atlantichealth(dot)org.
###
About Atlantic Accountable Care Organization
Atlantic ACO is a joint venture of Atlantic Health System and Valley Health System, formed in December 2010. It comprises more than 1,800 physician participants in four regions of northern New Jersey, including Bergen, Morris, Sussex, Union and Somerset counties.
About Optimus Healthcare Partners
Optimus Healthcare Partners is a high performing clinically integrated network whose mission is to provide quality healthcare to the communities we serve. Optimus was formed in December 2011 and is comprised of over 500 primary care and specialty physicians located in Bergen, Essex, Hudson, Middlesex, Monmouth, Morris, Ocean, Somerset, Sussex, Union and Warren counties.
About Atlantic Health System
Atlantic Health System (http://www.atlantichealth.org), headquartered in Morristown, New Jersey, is one of the largest non-profit health care systems in New Jersey. As a trusted network of caring, our promise to our communities is that anyone who enters Atlantic Health System will receive the right care, the right quality, at the right place, at the right time and at the right cost. Atlantic Health System includes Morristown Medical Center in Morristown, NJ; Overlook Medical Center in Summit, NJ; Newton Medical Center in Newton, NJ; Chilton Medical Center in Pompton Plains, NJ; and Goryeb Children's Hospital in Morristown, NJ, as well as Atlantic Rehabilitation, and Atlantic Home Care and Hospice. It also includes its subsidiary, Atlantic Ambulance Corporation. Atlantic Health System comprises 1,599 licensed beds, more than 14,000 employees and more than 4,000 physicians. Atlantic Health System has a medical school affiliation with the Sidney Kimmel Medical College at Thomas Jefferson University; a Major Clinical Affiliate of Rutgers Cancer Institute of New Jersey; part of Atlantic Accountable Care Organization, one of the largest ACOs in the nation, and is a member of AllSpire Health Partners.